Ofcom outlines 4G mobile auction timetable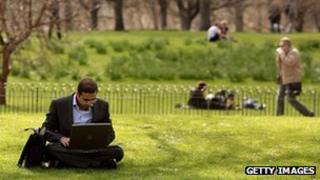 New fourth generation (4G) mobile services in the UK could be launched by next June, under a timetable set out by the UK communications regulator.
Ofcom said firms interested in bidding for 4G mobile spectrum must submit their application by 11 December.
Bidding for the spectrum will start in January, with licences expected to be granted in February and March. Services should go live in May and June.
Ofcom said the reserve price for all the spectrum being auctioned is £1.3bn.
The regulator said the 11 December date was "provisional" and said it would confirm the date by 26 November once the final regulations for the auction came into force.
Although bidding would begin in January the whole process could take "a number of weeks", said Ofcom. Auction winners and losers would be told about their fate in February or March, it said.
Members of the public interested in the auction process can follow developments via a 4G consumer webpage.
The watchdog said that once 4G services were operating those using laptops, tablets and phones while on the move should get browsing speeds comparable to those they enjoy at home on fixed lines.
As a comparison, it said that downloading a music album via 3G can take as long as 20 minutes but on 4G would only take a few minutes.
Mobile operator EE, formerly Orange and T-Mobile, is already offering 4G services. Ofcom gave it permission to use its existing spectrum after assessing whether the launch would affect competition among operators. The services were launched on 30 October.