Blackberry 10 to be launched in January, RIM announces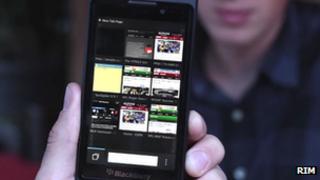 The next Blackberry smartphone, which manufacturer Research in Motion (RIM) hopes can revive its fortunes, will be introduced on 30 January.
RIM, once a leading name in smartphones, has struggled to keep up with the likes of Apple and Google in recent years.
The new range will run on Blackberry 10, an upgraded operating system.
RIM has not said when the smartphones, which have been set back by multiple delays, will be available to buy.
The devices were set to be launched late this year, but in June the company announced a delay - which means it will miss the critical holiday shopping period.
However, news of the January launch has buoyed investors - shares in the Canadian company rose 5.5% ahead of trading on Monday.
The company said that it will release two models: one with a touchscreen, the other with a Qwerty keyboard - seen as a key benefit among Blackberry fans.
Plummeting shares
In its more successful years, RIM's Blackberry products were considered pioneering devices due to their email capabilities and strong security.
Among young people, Blackberry Messenger - known to many as BBM - was very popular.
However, handsets from the likes of Apple, Samsung and HTC has seen the Blackberry fall way behind - blamed in part on its poor support for many of the most popular apps.
Since 2008, the company's share price has dropped by 90%.
"In building Blackberry 10, we set out to create a truly unique mobile computing experience that constantly adapts to your needs," RIM chief executive Thorsten Heins said.
"Our team has been working tirelessly to bring our customers innovative features combined with a best-in-class browser, a rich application ecosystem, and cutting-edge multimedia capabilities.
"All of this will be integrated into a user experience - the Blackberry Flow - that is unlike any smartphone on the market today."
According to the BBC's technology correspondent Rory Cellan-Jones, Blackberry Flow is designed to allow users to move seamlessly between a whole range of apps, heading from an email to calendar to a social network without returning to a home screen.
In an interview with the BBC last month, Mr Heins said users should not "underestimate" the new handsets' potential in the market.