When will UK rural areas get fast-speed fibre internet?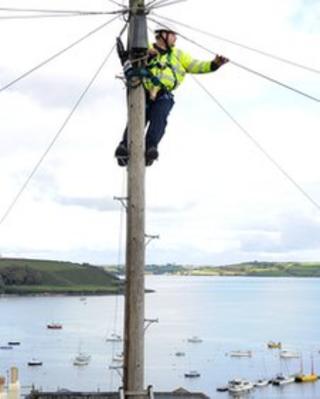 In the picturesque village of St Agnes in Cornwall, you can't get a mobile telephone signal unless you jump up and down in the middle of the road but you can get super-fast broadband, offering speeds of up to 100Mbps (megabits per second).
By June 2014, the majority of the county and the neighbouring Scilly Isles will be enjoying the same, thanks to a network being laid by BT, funded in part by the European Regional Development Fund.
What is much more unclear is whether that can be replicated around the rest of the country.
Developments in Cornwall are being keenly watched by BDUK - Broadband Delivery UK - the group set up to oversee rural broadband rollout in the UK.
It has allocated every council in the UK a pot of money to help them build similar fibre networks. Councils must choose someone to lay it and provide some cash to fund it.
So far only a handful of councils have chosen a supplier - and BT has won in every case, in most cases it has been the sole bidder.
BT's dominance may mean that the whole project - which requires state aid approval from the EU - could be considered anti-competitive.
Even if approval is given soon and each council begins rollouts, the Cornish example suggests that the government could still fall short of its target to have universal broadband by 2015.
BT began its Cornish deployment in 2010 and will not complete it until 2014.
"The later the start, the harder it will be to finish by a fixed end date," said Ranulf Scarborough, BT's director of Superfast Cornwall.
Wine club
Those living in areas with poor or non-existent broadband are getting fed up with waiting.
Rob Trethewey, chairman of Trispen village parish council knows the feeling well. Until last year, he lived in a not-spot.
"Twelve months ago we'd be very lucky to get half a meg," he said. "We had dial-up and you had to sit down and wait. That was very much the norm."
The lack of good broadband had been the major complaint of residents of the Cornish notspot for three or four years, he added.
Now homes are enjoying speeds of up to 40Mbps.
They aren't doing anything particularly earth-shattering with it.
"They can work from home, shop from home. Children can do their homework," said Mr Trethewey.
Normal life then, basically.
For the Driftwood Spars, an inn and hotel in St Agnes, a fast internet connection means that, in an age when many pubs are closing their doors, it can diversify.
It offers a conference centre for a variety of local businesses and residents, including the local wine club can which can hook up via Skype to wine-growers around the world.
It keeps the pub at the centre of the community and allows both to thrive, said proprietor and chair of the St Agnes Chamber of Commerce, Lou Treseder.
Nine years
If St Agnes residents are pleased to have fast broadband, then Alun Morgan, founder of electrical resistor firm Arcol, is positively delighted by the speed of his connection.
Just down the road from the village he is benefiting from a new Fibre-to-the-Premises (FTTP) - also sometime known as Fibre-to-the-Home (FTTH) - connection which is beginning to offer some speeds of 330Mbps, a definite improvement on the 1.5Mbps speeds he got just six months ago.
"We have 40 people working here and it meant that if one set of people were receiving emails, another set couldn't," he said. "People were going home to read emails at night."
Now the picture is somewhat different.
"It enables us to do all sorts of things, things that we had only dreamt of before," he said.
"Cloud-based back-up takes about 10 minutes, previously it would have been about nine days so we wouldn't even have considered it."
His firm has also been chosen as the hub for what BT is claiming as a world first - a 10Gbps connection which is being tested between the Truro telephone exchange and his office.
It is hard to find things to fill that amount of bandwidth but early tests suggest it is working.
Railway line
BT admits that there will be about 10% of homes - or 20,000 people - in Cornwall which won't be reached by fibre.
For them, it has been testing a new bit of technology - called the broadband regenerator - which it hopes can squeeze a fairly decent speed - up to 5Mbps - out of lines that have struggled before.
Broadband regenerators will replace previously touted alternatives such as 4G and White Space, both of which have been previously trialled by BT.
The remaining 1-2% will have to rely on satellite.
Daniel Heery, who runs a community-based fibre network in Alston, Cumbria, believes that the figure of 10% properties that remain hard-to-reach in Cornwall will be replicated around the country when BDUK projects start to kick in.
"Councils are going to be hard-pressed to negotiate for BT to really stretch the limits of where it goes it," he said.
For those stuck in the final 10%, there are plenty of innovative community-based schemes popping up.
He estimates there are about 50 fibre-based community projects in various stages of readiness around the UK.
His project, CyberMoor, offers Fibre-to-the-Home to 40 properties in Alston, Cumbria.
In Dorset a scheme known as Trailway to the Future, aims to use part of an old railway line to provide fibre to the home to five villages.
Getting broadband to every nook and cranny of the UK is not going to be easy, but many feel that it is worth finding innovative ways to future proof even the remotest parts of the UK.
David Cullen is a telecoms veteran and founder of NYnet which runs a fibre network in Yorkshire.
"I feel that we may be heading down a technology cul-de-sac at the moment," he said.
"We need to think ahead and maybe take a leap of faith with suppliers other than BT who can't access the copper network so have to think of alternatives."