Enigma coding machine beats auction estimate in London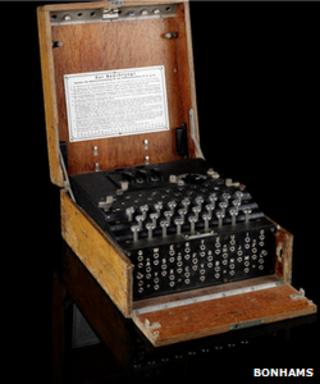 A rare Enigma encoding machine has sold at auction in London for £85,250.
That is more than its £40,000-£60,000 estimate, but less than the £131,180 price an Enigma sold for last year.
The typewriter-like devices were used by the Nazis in World War II to encrypt and decode messages sent between the military and their commanders.
Interest has been high as this is the centenary year of Alan Turing's birth - the British mathematician who played a key role in breaking the Enigma code.
Auctioneer Bonhams said that the version sold was a three-rotor model used in Germany between 1938 and 1944.
"This particular example is in working order, completely untouched and un-restored," said Laurence Fisher, specialist head of technical apparatus at the auctioneer, ahead of the sale.
"Many machines were picked up by the allies as souvenirs during the final stages of the Second World War and as such, in later years, tended to be 'mixed and matched', where rotors, outer cases and head blocks were replaced with another machine's parts.
"This one has all elements bearing the same serial number, making this totally complete and original throughout."
Bonhams was unable to reveal the names of the parties involved, but said that the seller was from Europe and the buyer from the US.
The winning bid was made over the internet.