Charitable mobile network The People's Operator launches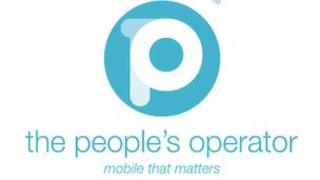 A mobile network that allows users to donate 10% of their bill to an organisation or charity of their choice has launched in the UK.
The People's Operator (TPO) will also donate 25% of its profits to charities, including the NSPCC and Childline.
Chairman Andrew Rosenfeld said he hoped TPO could spread internationally.
The network, which went live on Monday, will initially operate as a pay-as-you-go-only service, with contract options becoming available early next year.
"For a long time I've really thought it would be great to produce a business that was driven by profits but which actually was also for the benefit of people in the communities around the country," said Mr Rosenfeld at a launch event in central London.
"The more profits we can make as a business, the better it can be for people in communities around the country."
The company would not speculate on how much profit it expects to make.
Schools and youth clubs
The network is a mobile virtual network operator (MVNO) - a term given to operators that run on the infrastructure of the bigger networks.
Although the company would not confirm its involvement, TPO is expected to run on EE, the company formed by a merger of Orange and T-Mobile.
EE recently launched the UK's first 4G mobile internet service. TPO said it would offer 4G "as and when it becomes available".
On its pay-as-you-go tariffs, texting on the service will cost 7.5p, while UK calls on the network will cost 12.5p per minute.
Data costs 12.5p per megabyte. In comparison, Vodafone offers data at £1 for a day's access - with a 25MB limit - with each extra megabyte costing 4p thereafter.
Keith Dyer, editor of Mobile Europe, told the BBC that TPO may find it difficult to tempt users to change networks - even for a good cause.
"I think that they need a more attractive data package," he said.
"I would be reticent to say that lots of people would switch operator purely for those voice and text rates."
'Bathe in beans'
However, while he said while there was "nothing remarkable" about the packages on offer, the scheme itself may appeal to users' philanthropic side.
"They're obviously going to go strong on 'keep on doing what you do' - that's what they're going to hammer home.
"I think that will make sense to people. As an appeal to people's best instincts - I haven't seen anything like this in this market."
Tom Gutteridge, co-founder of the operator, explained that as well as the named charities, customers of TPO could choose to support non-charities in the local area.
"If you wanted your local youth centre, or your local school, that's a completely different proposition. It really allows people to put money into their local communities."
Mr Gutteridge stressed that he felt the idea's strength lay in its ability to allow people to donate money during their "day-to-day lives".
"We don't have the time every day to bathe in beans or jump out of a plane," he said.