How MIDI changed the world of music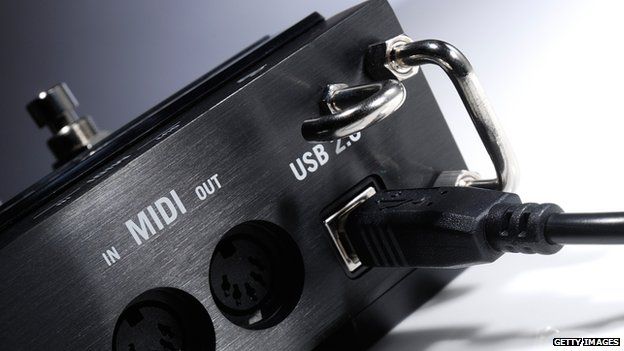 It's 30 years since the development of technology that allowed synthesisers and drum machines to be connected to computers - and since then MIDI (Musical Instrument Digital Interface) has revolutionised the world of music recording.
If you really want to appreciate Pink Floyd's track Shine on You Crazy Diamond, aficionados claim, it's best to have it on vinyl.
The sounds of the synthesisers burst through the crackle on the record as the guitar and drums set a heavy, rolling rhythm.
It made for a huge, era-defining sound - and you can feel the full 1970s sensation on that vinyl version.
But despite the awesome creativity of the music, the sound betrays a major limitation to the way electronic musical instruments were controlled at the time.
"You could play one keyboard with your right hand and another keyboard with your left hand," says Dave Smith, a synthesiser manufacturer from California who was working on the issue back then.
"But [musicians] couldn't play more than one at the same time because there was no way of electrically interconnecting them," he remembers.
What Smith did next would transform the way recording studios worked, and create a revolution in music and recording production.
He persuaded manufacturers to adopt a common format which allowed their synthesisers to be controlled externally - by another keyboard potentially made by a rival manufacturer, or even by a computer.
It was called Musical Instrument Digital Interface (MIDI) and would soon become the industry standard for connecting different makes of synthesisers, drum machines, samplers and computers.
The development opened up a "whole new era of music processing", as Dave Smith puts it.
"What MIDI did is it allowed the first home studios to be born," he says.
"The computers were fast enough to be able to sequence notes, control the number of keyboards and drum machines at the same time… it kind of opened up a whole new industry."
It was a breakthrough that would have the same kind of impact on popular music as the electrification of guitars decades earlier.
Sitting beside a row of keyboards and a big mixing desk at a home studio in Buckinghamshire is Alex Paterson, founder of the ambient dance band The Orb.
"God bless MIDI", he exclaims, as a bass sound from one the synthesisers pulsates from the studio speakers.
"It was like walking into a dream," says Paterson, describing the studio set-up used to record the band's anthemic 1990 track Little Fluffy Clouds.
"Suddenly, you could be playing something on one synth and then you could walk over to the next synth and you could be playing the exact same thing.
"It was all there stored up ready to go for you - unbelievable stuff really," he recalls.
This intricate and orchestrated control of synthesiser sounds, drum machines and samples saw a transformation in what was possible in the studio and ushered in a whole new means of production - it was the birth of dance music.
The first instrument with MIDI capability was a synthesiser called the Prophet-600 - designed by Dave Smith - which rolled off the production line in December 1982.
Atari and Commodore 64 computers - hugely popular among game-playing teenagers at the time - could also be used to control MIDI instruments via a cable with 5-pin connectors at either end.
The wide availability of the format and its ease of use helped redefine pop music in the 1980s - giving it a strong electronic feel and spawning many of the contemporary music genres that followed.
Alex Paterson's co-producer Dom Beken remembers how MIDI allowed anyone to create "massive soundscapes".
"Those electronic pioneers and those people who might have been punks before could now just make stuff that people would go mad to on the dance floor," he says.
For Dave Smith, MIDI could only become a success if every manufacturer adopted it - "we had to give it away", he says.
The universality of the format was perhaps an early example of what now gets called "open source" technology - MIDI's backers intended it to be a free gift to the world which allowed anyone access.
Three decades on, and MIDI is still going strong - remaining one of the core components of professional recording and music production.
It's a give-away which has changed the world of music - although you wouldn't guess it chatting to MIDI's understated Californian creator, Dave Smith.
"Of course it would have been even more fun to have made some money off of it, if that were possible," he says.
"But that wasn't part of the plan."
Tom Bateman's full report was broadcast on the Today programme on BBC Radio 4 on Thursday 22 November.