Online protests after Chinese Twitter user arrested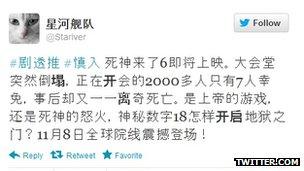 Hundreds of web users have signed a petition demanding the release of a Beijing man accused of criticising China's authorities on Twitter.
Zhai Xiaobing, who is being linked to Twitter name @Stariver, was stopped by police days before the new Chinese leaders were confirmed on 15 November.
In a tweet, the account compared the Communist Party 18th National Congress to horror film Final Destination.
In it, characters at first escape death but still end up dying one by one.
"The Great Hall of the People suddenly collapses, only seven of more than 2,000 people inside survive.
"Later, one-by-one the survivors die in strange ways. Is it the game of God, or the Devil venting his wrath?
"What does the mysterious number 18 have to do with opening the gate to Hell? A shocking global premiere on 8 November!"
All the numbers mentioned in the tweet make reference to the leadership handover - the 18th Congress began at Beijing's Great Hall of the People on 8 November, and the new leadership consists of seven members, one of whom is the newly appointed Communist Party chief Xi Jinping.
According to the Wall Street Journal, the Miyun detention centre has confirmed Mr Zhai was there, having been arrested because "he wrote a micro-blog post containing false information on the internet".
Chinese authorities closely monitor domestic social-media sites, including the Twitter equivalent, micro-blog Sina Weibo.
One analyst said that Mr Zhai's arrest was significant because it had happened after a post on Twitter - which is officially blocked in China - and not on Weibo.
"It did surprise me at first - it's a white-collar guy that seemed to have a misfortune to be arrested and made an example of, as there were many posts on Weibo worse than his," Duncan Clark, chairman of consultancy BDA China, told the BBC.
"But the story is significant on a whole other level because he used Twitter and not Sina."
Some 35 million people access Twitter from inside China, using a proxy or VPN (virtual private network) that allows users to penetrate the country's "great firewall".
Although the authorities are unable to censor content posted on Twitter, they monitor what Chinese users write.
"In China, domestic sites have to hand over the IP address of a user when demanded to do so by the authorities, but with a foreign site there's no such jurisdiction - so the Chinese government must have used other means to identify this person," said Mr Clark.
It is not clear how Mr Zhai was identified.
Chinese authorities have arrested people for their Twitter posts before.
At the time, China and Japan were embroiled in a diplomatic row over a group of uninhabited, but disputed, islands in the East China Sea.
Groups of young Chinese were demonstrating against Japan, publicly smashing Japanese products.