China diary: Beijing air and Weibo warriors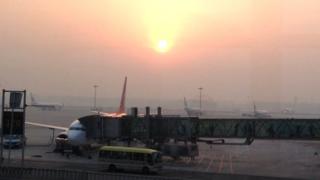 I packed my running kit for my trip to China and it proved useful in Shenzhen where I managed a 5km jog before breakfast one steamy morning.
But the minute we landed in a much chillier Beijing, I realised that my running shoes would stay in my suitcase unless I wanted to risk serious damage to my health.
The US Embassy has an air quality monitoring service and as we arrived the index had reached levels described as hazardous to health.
"Everyone should avoid all physical activity outdoors," is the advice when the pollution index goes above 300 points - a bit of shame since the Beijing marathon is on Sunday.
You can follow this index on Twitter via @beijingair but that's not a simple matter. Twitter and Facebook are blocked in China, though we've met quite a few people who use VPNs (Virtual Private Networks) to get around the cyber roadblocks.
But don't imagine social networking is a minority activity here - quite the opposite. The Chinese appear to be addicted to it, in the form of Weibo. This is something like Twitter, except that there are at least four competing services, with users running into the hundreds of millions.
It's not just the young who are involved - every age group in every part of the country seems to be using a micro-blogging service. Weibo, in other words, is a bigger phenomenon than Twitter.
I've signed up to one of the most popular services, Tencent Weibo to try to understand what's going on. Without speaking Chinese, it's hard to get much benefit, but when I post something I seem to get a lot of responses.
We went to visit one of Beijing's most adept social media users, Wang Kejin, who has nearly seven million followers across three Weibo sites. He's not some vapid celebrity but a campaigner for migrant workers suffering from lung diseases.
He showed me one of his recent posts, about a woman dying from pneumoconiosis and being cared for by her young son. His campaign to make the authorities listen to migrant workers' concerns has attracted thousands of volunteers across China, and is now completely dependent on social media.
Mr Wang can be outspoken on Weibo and says he gets away with it because he's a public figure, although he does get the odd call from the editors of the sites asking him to take down a post.
And he knows just how far he can go. "There are red lines," he tells me. "You can go up to them but not over them." Mentions of the banned Falun Gong religion or of protests in Tibet are out, but the most dangerous line to cross is any criticism of the Communist Party.
Social media is already having an enormous effect in China, with news spreading rapidly of injustice and corruption by local officials, stories that would previously have remained local. And Wang Kejin is an optimist - he believes the government will be forced to allow more freedom of expression as the influence of the new technology becomes unstoppable.
In the meantime, I'm still struggling to check up on Beijing air quality because my hotel's internet connection doesn't like me using Twitter or Facebook, or even sometimes Google.
Still, there's now a freezing wind blowing outside and that appears to be blowing away much of the smog, just in time for Sunday's marathon. I will be getting on a plane home as it gets started so won't be able to take part. But here's some advice to those running - check out @beijingair first.
That's the last of my blogposts from China. Look out in a week or so for the reports we've compiled for TV, radio and the website.