Privacy groups call for Facebook changes U-turn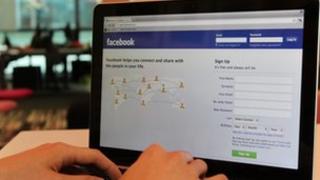 Two US privacy groups have asked Facebook to reconsider proposed changes to its terms of service that they say violate commitments to protect users.
The social network plans to end user voting on its privacy policy, and allow the sharing of information across its services.
Facebook is also planning to get rid of a setting for users to control who can contact them on its email system.
So far the proposed changes have garnered more than 18,000 comments.
In a letter to founder Mark Zuckerberg, the Electronic Privacy Information Center and the Center for Digital Democracy said that the changes could be in contravention of a deal Facebook struck with US regulator, the Federal Trade Commission,
"Facebook's proposed changes implicate the user privacy and the terms of a recent settlement with the Federal Trade Commission," the letter said.
In April, Facebook settled with the Federal Trade Commission over claims that it had deceived users and made them share more information than they had intended.
Under the settlement, Facebook is required to obtain users' consent for certain changes to its privacy settings, as well as commit to 20 years of independent audits.
On proposed changes to email controls, the letter suggested: "By removing users' ability to prevent strangers from sending unwanted messages, the proposed changes are likely to increase the amount of spam that users receive."
And it likened plans to share data from Facebook and Instagram to Google's decision to unify data across its services.
This led to objections from privacy organisations, members of Congress and European data protection authorities.
Lobbying government
Facebook has so far issued no comment in response to queries from the BBC. It is understood that it is in dialogue with regulators about the proposed changes.
UK privacy groups have also criticised the changes.
Jim Killock, director of the Open Rights Group, said: "Facebook is lobbying the UK government to weaken new data protection laws and reduce our legal rights.
"It claims that the right to have our data back or to destroy it would be unworkable. But then Facebook go and show exactly why UK citizens need new, stronger personal data laws."
As the changes have not yet been enforced, they will be subject to the voting process. If the proposals generate more than 7,000 public comments during a seven-day period, it will trigger a vote by users to approve the changes.
However the vote is only binding if at least 30% of users take part. Two previous votes failed to garner that level of support.
To counteract criticisms of the changes, Facebook is also launching a new feature on its privacy page that lets users submit questions to its chief officer of policy, Erin Egan.
Users wanting to comment on the proposed Facebook changes have until Wednesday, 28 November.
False rumour
The announcement of the changes generated a flurry of comments on the social network, including a hoax copyright protection notice that suggested the changes would mean users no longer owned the copyright to the content they post on the site.
The hoax document, which users were urged to post as a status update, read: "In response to the new Facebook guidelines I hereby declare that my copyright is attached to all of my personal details. For commercial use of the above, my written consent is needed at all times."
The post quickly went viral, causing Facebook to publish a statement, quashing the false rumour.
"Anyone who uses Facebook owns the controls the content and information they post, as stated in our terms," the statement read.