Nintendo launches Wii mini console in Canada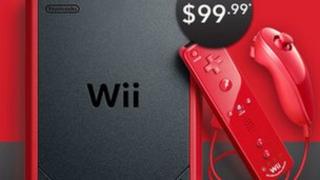 Electronics firm Nintendo is to launch a pared-down version of its Wii console in time for Christmas - although it will only be available in Canada.
The launch of the Wii mini, pictures of which were published on its website today, had been widely anticipated in the technology press.
The console will go on sale from 7 December for C$99.99 (£62).
It comes just days before its next generation console, the Wii U, launches in the UK.
The Wii mini will have no internet capabilities and is designed to play only Wii games, meaning there will be no compatibility with earlier GameCube games.
It is, as the name suggests, smaller than the original Wii and comes in black with a red border.
"Wii mini is a great gift for the holidays that bring everyone in the family together to play. Wii Mini has a mini-price, but it's all about big fun," said Ron Bertram, Nintendo Canada's vice president and general manager.
It is unclear when the device will be available in other countries or why it is being launched exclusively in Canada at this time.
"It might be that it will only launch in Canada and Nintendo will see how demand goes," said Michael French, editor-in-chief at games industry news site MCV.
"It is also in the middle of manufacturing the Wii U, so it may only be able to make a certain amount," he added.
The Wii U device, which comes with a handheld touchscreen tablet-like controller, sold 400,000 units in the first week of sales in the US - lower than the 600,000 Wii consoles sold in the first eight days when that device launched six years ago.
The president of Nintendo America said that it was a stock issue rather than reflecting the popularity of the device.
Initial reviews of the Wii U have been mixed, with some unhappy that it was shipped with key features promised by Nintendo missing.
A social and interactive TV programming guide is due to be added in December, as will video-streaming apps from Netflix.