Iran launches web video channel, Mehr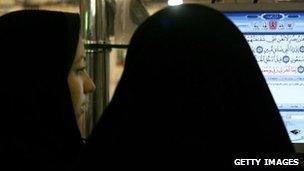 Iran has launched a new website for citizens to share short videos.
The website is called Mehr, which means affection in Farsi, and is run by the state broadcaster IRIB (Islamic Republic of Iran Broadcasting).
Iran already has a popular local video channel called Aparat, which is run by the same company behind Iranian social network Cloob.
YouTube, operated by Google, has been blocked in the country since 2009 but many Iranians can still access it.
They use Virtual Private Networks, or VPNs, which are banned in the country but are not uncommon - and allow net surfers to bypass filters.
Online video is very popular in Iran but low internet speeds - often less than 1Mbps (megabits per second) - make streaming a big problem, said reporter Adel Shaygan from the BBC Persian Service.
"Having that speed, streaming good quality and stutter-free videos is next to impossible. In which case, downloading is a more reliable option," he said.
"As well as knowing how to get round the restrictions on the internet (imposed by the authorities), people also know how to download content from YouTube."
While there is no data yet available about the use of Mehr, Aparat, which has been around for a couple of years, is the 13th most popular website in Iran according to web stat provider Alexa.
Aparat is based in Iran and abides by local laws governing its content but has international sponsors including electronics firm LG.
YouTube was officially censored in the country following protests and allegations of vote fraud after the re-election of President Mahmoud Ahmadinejad in 2009.
YouTube owners Google declined to comment on the launch of Mehr.
Related Internet Links
The BBC is not responsible for the content of external sites.