Facebook changes privacy settings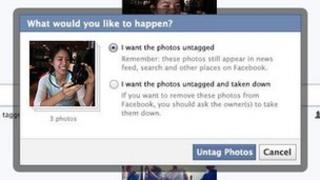 Facebook has updated its privacy settings to allow users greater control over the content they put on the site.
The updates include new privacy shortcuts, more accessible information about where content will appear and new ways of removing tags from photos.
The firms says that the changes are part of its drive to help users manage content on the site.
Some experts think the site tidy-up comes ahead of the much rumoured launch of a search engine.
Erin Egan, Facebook's chief privacy officer, told the BBC: "We don't want our users to be surprised. We want everyone to understand how they can control their information and have the best experience. It is part of our goal to be better, we constantly want to improve."
The three key elements to the changes are:
Privacy shortcuts - a new icon on the toolbar will allow users to access it from whatever page they are on and asks three key questions - who can see my stuff?, who can contact me?, and how do I stop someone from bothering me?
In-product education - this means that when you post something Facebook will explain where it appears - reminding users that while a post may be hidden from their own timeline it will still appear in search, news feeds and other places on Facebook.
Request and removal tool - allows users to go to a tab and select multiple photos and untag them on their page. They can also send a direct message to the person who tagged them asking them to remove the tags and explaining why they do not want their photo posted.
Other changes include new permissions for third-party apps and easier-to- use activity logs which allows users to see all the things they have posted on Facebook.
The new tools will roll out this month and all one billion plus users will be notified about the changes, said Ms Egan.
Search me
Facebook has made no secret of the fact that it wants to make search a much more prominent part of its social network.
At an industry conference in September, founder Mark Zuckerberg spoke about plans to build a search engine.
Some believe that the privacy tidy-up could be a precursor to such a launch.
A search engine could be of huge commercial value to the social network but would also raise fresh privacy issues, said Mark Little, an analyst with research firm Ovum.
"Facebook will effectively be organising its members information and making it easier for others to find it," he said.
"We don't yet know what information they will be able to access but I assume that Facebook will give people to option to opt in or out of sharing such information. It will be interesting to see how it does that," he added.
The changes come as Facebook also overhauls the way it manages users' data. Over half a million users voted on the changes, with the vast majority against them.
In a blog post Facebook acknowledged that the vote was "the biggest in Facebook history" but said that, as it fell short of the 30% of users needed to effect change, the proposed updates would be adopted with immediate effect.
They include allowing for greater data sharing across Facebook-owned services such as Instagram, getting rid of a setting to control who can contact users via its email system and scrapping the process that allowed users to vote on changes to its privacy policy.
Mr Little thinks that Facebook could have handled the changes better.
"I'm not sure that giving users a week to vote was long enough, given that many don't go on Facebook on a weekly basis," he said.