Google, Flickr - and the app wars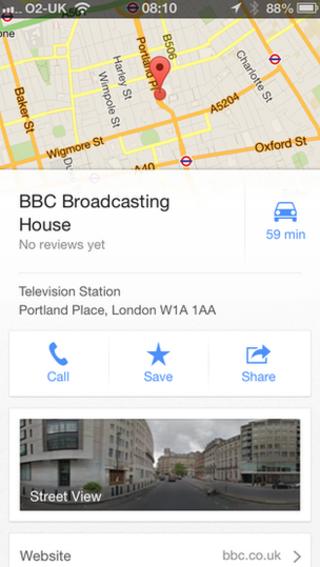 Two apps for Apple's iPhone have been released in the last 24 hours. Nothing surprising in that - there are millions out there already. But Google Maps and the Flickr iPhone app each tell us an interesting story about where power lies in today's mobile world.
Google's app is a victory for the search firm in its increasingly acrimonious battle with Apple.
When the iPhone 5 and the latest mobile operating system were launched in September, they came without Google Maps, as Apple set about launching its own mapping ecosystem.
The intent was to free itself from a maps app which was consistently offering a better experience to Android users rather than those who prefer iPhone, but the result, as rapidly became clear, was a fiasco.
The data was just not accurate enough - even this week Australian police went as far as to say Apple Maps was dangerous - and it resulted in a corporate upheaval at Apple.
Now Google has released its new maps app and Apple has approved it. The company could hardly do otherwise, after its CEO Tim Cook encouraged users to try other apps while its own system was improved.
It means that iPhone users can once again use Google Streetview, and there are other improvements - turn-by-turn, voice-guided navigation, long available on Android, now comes to the iPhone, and there's a fresher look to the maps.
Apple has been working to improve its service, and I found at the weekend, after months of frustration, that it was surprisingly good at navigating me across London. It also has a 3D view which to some users may feel more useful than Streetview.
But what will matter to most users is the relative accuracy of the two systems. Search for Luton on Apple, and you will still be directed first to a village in Devon, rather than the town north of London that Google finds. Look for Mottingham station in London, and Google directs you there, while Apple's first offer is a local shop.
What will happen next? While Apple Maps remains the default option, inertia will mean that many users stick with it. But expect Google Maps to climb rapidly to number one in the App Store charts.
It is interesting to note that you are encouraged to sign in with your Google account when you install the app - the search firm is keen both to reinforce its relationship with users and to improve its data collection.
So Google will be happy this morning, while the Apple army in Cupertino will be plotting revenge. Meanwhile another big name in the web world - Yahoo - is playing catch-up in the mobile market, as it relaunches its Flickr app for the iPhone.
Flickr was once universally recognised as the original and best online photo management service, used by professional and amateur photographers as the place to store and display their best work.
Its users are still fiercely loyal, although many complain that it has suffered under Yahoo's stewardship, which is strange, as it has been owned by the company for most of its life.
But since 2005, when Flickr began, the world of online photos has been transformed by social networking. Facebook and its new property Instagram, with its flashy filters, have become the default way of sharing snaps online.
Flickr users have been sniffy about the point'n'shoot crowd who post black and white images of their lunch on Instagram, but Yahoo looked on with envy as a billion dollar business was created from nothing.
Now the new Flickr iPhone app comes with a range of filters and easy social media sharing options in what looks like a belated attempt to catch up.
Is it too late? Maybe - except for one thing.
Twitter and Instagram have been at loggerheads ever since the photo service was acquired by Facebook.
In recent days, Instagram pictures shared on Twitter have no longer popped up - you have to head over to its site instead. By contrast, Flickr photos taken with the new app, pop up prettily on Twitter.
In this fast-changing world, the likes of Google and Apple, Facebook and Yahoo, are friends one moment, foes the next. As the world goes mobile, there are huge sums at stake, and maps and photo are key battlegrounds.
As consumers, we can just sit back and enjoy the spectacle as these companies fight for our business.