New York puts taxi apps to vote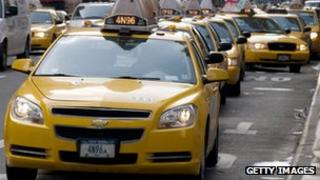 New York's taxi authority is to vote on whether or not the city's iconic yellow cabs should accept bookings via smartphone apps.
A plethora of apps, such as Uber and Hailo, have been released to help commuters track down available cabs.
But some taxi companies are concerned about the impact these apps could have on their business.
Taxi-hailing apps have been widely adopted in other cities around the world.
In New York, where taxi operators are highly regulated, several companies have written to the city's Taxi and Limousine Commission (TLC) calling for plans to allow the use of the apps to be rejected.
Among them are companies who offer pre-booked minicabs, rather than ones hailed from the street.
They argue that using a smartphone to hail a cab is in effect a pre-booking, and may take away a large amount of custom.
In the 1980s, New York's yellow cabs could be pre-booked, that many complained meant it was difficult to hail a cab. Some fear that smartphone apps could create a similar problem.
But the TLC's chairman has described the use of the apps was "inevitable".
"Taxi-hailing apps will be useful to customers," David Yassky told the Wall Street Journal.
But he added: "There's a lot we don't know about how they will work in practice and what impact there will be on other parts of industry.
"I think it's prudent to do this in a measured way, so they can see how they work before they make it permanent."
Mr Yassky has the backing of New York Mayor Michael Bloomberg. The Wall Street Journal newspaper suggests his aides are keen to push for app adoption in order to portray New York as a tech-friendly city.
Thursday's vote will determine the rollout of a pilot programme. If the TLC votes in favour, the apps will be allowed for a one-year period before their effectiveness is reviewed.
'Phenomenal'
Other cities have tentatively adopted the apps - with varied results.
Australia's taxi authority put out a major warning about "rogue" apps providing unvetted drivers with passengers.
"These rogue app companies will say anything in their quest for profit," said Benjamin Wash from the Australian Taxi Industry Association.
"I've heard them say they keep location records, but that's no good to you if you're injured or dead."
More established apps like Hailo, Uber and GetTaxi require drivers to provide licenses before they are allowed to use the service.
In London, uptake of Hailo had been "phenomenal", said Steve McNamara, general secretary of the Licensed Taxi Driver's Association.
"They went viral in weeks. They've now got 9,000 drivers - it's converted a generation," he told the BBC.
"These are guys who have basic phones, to call and send the odd text, have now gone over to smartphones to embrace technology with a zeal that beggars belief."
Uber launched in London just prior to the Olympics, offering private hire minicabs rather than black cabs.
Wayne Casey, from the National Taxi Association, said the apps were helping drivers in quieter areas find more work but may prove less effective on busy streets.