Chinese man pleads guilty in $100m software scam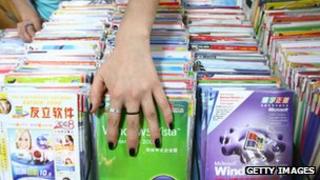 A Chinese man has pleaded guilty to selling pirated US business software worth more than $100m (£62m).
The software, stolen from 200 manufacturers, was sold in 2008-2011 for a fraction of their High Street prices, US prosecutors said.
Xiang Li was arrested in June 2011 in Saipan during an undercover sting operation.
He has pleaded guilty to conspiracy to commit criminal copyright violations and wire fraud.
"I want to tell the court that what I did was wrong and illegal and I want to say I'm sorry," Mr Li told district judge Leonard Stark, although he disputed the retail value of the software he stole and sold.
Mr Li, from China's Chengdu province, targeted software from big manufacturers including Microsoft, Oracle, SAP and Rockwell Automation before selling them on to 325 buyers, including a Nasa engineer as well as military contractors.
The black market buyers extended from 28 US states to more than 60 countries.
Cheap sales
The businessman searched for hacked software on internet forums before advertising them for sale on his websites which offered more than 2,000 pirated titles, prosecutors said.
The pirated programmes were then allegedly transferred to customers via Gmail, and Mr Li and a second suspect collected payment through money transfer services.
The pirated software was said to be sold for as little as $20 to up to $1,200 - with the retail value of the products were much higher, ranging from several hundred dollars to more than one million dollars apiece, according to US officials.
The scam came to light after a US manufacturer discovered his company's software was being sold on Mr Li's website crack99.com, and notified authorities.
Mr Li was eventually arrested by US agents after an 18-month undercover operation.
His lawyer, Mingli Chen, said: "He was pretty proud of himself. He did not realise it was such a big crime."
Last year US prosecutors charged seven people, including Megaupload founder Kim Dotcom, with racketeering and copyright violations for running a site that sold an estimated $500m worth of pirated entertainment software including movies and TV programmes.
Mr Dotcom is contesting the charges against him and other Megaupload executives alleging that much of the operation against him was unlawful.