The CES superpowers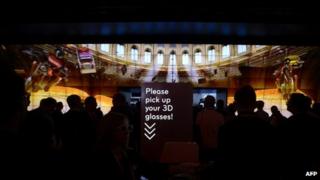 The doors opened, and a huge crowd of geeks surged through, grabbing a pair of 3D glasses to view the giant LG 3D cinema display at the entrance, then fanning out in search of something new.
And as we made our way through the crush to try to get some shots for a TV news piece, it was difficult to spot standout products that weren't new televisions or convertible laptops.
But three giant stands each told a different tale about where the superpowers of consumer electronics are heading.
All conquering Samsung
The Samsung stand appears even bigger and more lavish than ever, with deep pile carpet and a rolling ribbon of video display all around the walls. Apparently it took a month to build, and it is more evidence that the Korean giant is now the biggest noise at CES. That was certainly the theme at the firm's press conference, where executive after executive took to a stage in a vast Las Vegas ballroom and trumpeted the firm's dominance in the smartphone and smart television markets.
That event before the show opened did however lack something - a sense of humour and a little bit of humility. And on its giant stand it was hard to spot anything really groundbreaking - we enjoyed the 3D television that allows two viewers to watch different programmes at the same time, but struggled to see it finding a place in many living-rooms. Samsung looks unbeatable right now, but things change very rapidly in this industry - as one of its CES neighbours knows all too well.
Sony searches for wow
Sony's stand a few feet away certainly feels rather more modest than in recent years - but then the Japanese company has had plenty to be modest as it acknowledged in an unusually frank press conference, where the accent was on putting back the "wow" into its products. Sony has the engineering expertise to do that - but is its new smartphone really going to stand out from the crowd?
The Xperia Z is big and handsome, but is the fact that you can safely drop it in the bath really going to win over the Samsung Galaxy S3 crowd? The 4K television screens on the stand provide remarkable pictures, but Sony's big push to be the leading player in this new high definition format will be expensive and may not pay off for years. In the meantime, it's still looking for a product that will do what the Walkman and the PlayStation did - define a whole new consumer experience.
Intel and interfaces
In the absence of Microsoft, Intel's stand was the place to go for a view of what Windows 8 was doing for devices. All manner of touchscreen, convertible, flippable, giant screen, small screen portable computers were on display - but nothing really stood out. Then we were led backstage to a private room for a demo of what Intel calls "perceptual computing". Its research teams have been at work exploring new ways of interacting with screens - and what they showed me certainly had the "wow" factor.
An eye-tracking device allowed me to spot Wally in a Where's Wally book - and the page flipped over. I clapped my hands in front of another screen and created the universe in big bang moment, then manipulated the solar system in godlike fashion, expanding and contracting it between my palms. All good fun - but my guide, the Intel executive Mooly Eden insists that five years from now this kind of technology will have transformed the way we use computers. We'll have a video of that demo up later this week.