Brussels to open Europol cybercrime hub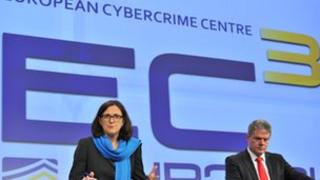 A European hub designed to help fight cybercrime will officially begin operations this week.
The European Cybercrime Centre (EC3) will pool information and skills to assist national police in cross-border cybercrime investigations.
The Europol-funded hub will focus on the activities of organised crime and other cyber-attackers.
The centre will provide technical, analytical and forensic help in European joint investigations.
Policing challenge
Cybercrime is cross-border by nature, a situation that can present a challenge to national police forces, according to the head of the centre, Troels Oerting.
"In combating cybercrime, with its borderless nature and huge ability for the criminals to hide, we need a flexible and adequate response," Mr Oerting said in a statement.
"Cybercriminals are quick in using new technologies' development to implement their crimes," Home Affairs Commissioner Cecilia Malmstrom said at a press event.
The centre will look at attacks targeting e-banking and critical infrastructure, and crimes such as child sexual exploitation.
"The aim of the centre is to complement and support national cybercrime investigations, and to be a focus point for all [member state] law enforcement authorities," said European Commission spokesman Michele Cercone.
The centre has been staffed since the beginning of the year, but will officially begin operations on Friday. It has a 7m euro (£5.7m) budget from Europol, the European Union's law enforcement agency, for 2013. Last year, the agency had a budget of 84m euros.