Schools' codebreaking competition winners announced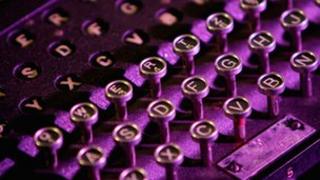 A team from City of London School has been named the winner of a national codebreaking competition.
In total 6,268 pupils from 725 British schools took part in the National Cypher Challenge at the end of 2012.
Previous years have seen 200 teams take part but this year 1,600 teams signed up to decode a series of cryptic codes released online.
The event was organised by Southampton University with support from GCHQ and commercial partners.
The competition was only for UK schools but teams from Tokyo, Bangkok, Florida and Honolulu also applied to take part.
It ran over a period of two months, with codes of increasing difficulty being issued periodically on the internet for school teams to crack, explained Prof Graham Niblo, organiser of the contest and head of mathematics at Southampton University.
While 1,600 teams signed up for the challenge only 30 managed to complete every level, he said.
Cypher secrets
"We started with a Caesar cypher, which is the most basic cypher that everybody learns at school. We ended with a Trifid cypher - the most difficult one this year," he told the BBC.
A Caesar cypher is decoded by substituting the letters in a code with others further down the alphabet. For example, an A becomes a C, a B becomes a D and so on.
A Trifid cypher is a complex combination of both an advanced version of the Caesar cypher and anagrams, where words are jumbled.
"It is the longest it has ever taken for the winners to decode any of our cyphers. This year they had to think quite hard about it," said Prof Niblo.
He added that it was very difficult for contestants to cheat.
"We did catch a couple of people trying to get help online. We tracked them down and warned them off," he said.
"The last cypher was not a standard cypher, and we modified it so they couldn't use any standard decryption software."
The winning team - Samson Danziger, Daniel Hu, Anthony Landau and Charlie Hu - cracked the Trifid code in 44 hours and 20 minutes. They will receive a £1,000 prize from GCHQ.
In second place was Andrew Carlotti from Sir Roger Manwood's School in Kent and a team from King Edward VII School in Sheffield came third.
The top 50 runners-up will also receive Raspberry Pi computers.
Competition history
The National Cypher Challenge is now in its 11th year.
Foreign Secretary William Hague MP launched the competition at codebreaking museum Bletchley Park in October 2012, as part of three GCHQ initiatives aimed at attracting young people into maths and computer science.
"Teachers tell me the children find it very gripping and engaging," said Prof Niblo.
"A number of them worked on it at home or went along to maths clubs they wouldn't usually attend."