Sony to make last MiniDisc stereo system in March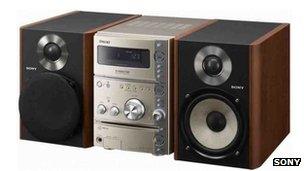 Sony has announced it is to deliver its last MiniDisc stereo next month.
It marks an end to the firm's support for the system which it launched in 1992.
The format only ever had limited success outside of Japan and was ultimately doomed by the rise of recordable CDs and MP3 players.
The news coincided with a teaser video released by the company promoting a PlayStation event with the caption: Be the first to know.
However, a spokesman was unable to provide any further information.
Sony had intended MiniDisc to become users' format of choice as a higher quality digital replacement for cassettes.
The firm had already promoted another digital format - the Digital Audio Tape - but the complex nature of the equipment needed to play it put it out of the reach of most consumers.
Data was stored on rewritable magneto-optical disks 2.5in (64mm) in diameter housed for protection in a square plastic shell.
They initially offered to hold up to 74 minutes of audio which was boosted to 80 minutes.
Sony claimed that recordings would be safe for more than 30 years without risk of degradation.
However, experiments by users revealed that holding magnets close to the disks would erase their recordings.
The original MiniDisc machines were still not cheap - the original recorder cost $750 (£475) while a playback-only version cost $549 when launched in the US in December 1992.
They proved a flop with fewer than 50,000 units sold over the following year.
Customers looking for high-quality recordings were more interested in CDs which were catching on at the time.
However, MiniDiscs did turn out to be more popular in Japan where CDs were more expensive and teenagers proved receptive to MD singles.
A series of expensive marketing campaigns and a key role in the science-fiction movie Strange Days - in which user's memories were recorded onto the disks - did not help the format catch on in the West. Neither did slashing the price of recorders to a third of their original cost by 1998.
Sony tried to reboot the format in 2004 as Hi-MD, offering more than three times the amount of storage - but by that point CD-R recorders, Apple's iPod and other MP3 players had captured consumers' attention.
"Despite the fact it never took off as a mainstream platform - truth be told many people never really understood it - it still carved some niches," said Chris Green, principal technology analyst at Davies Murphy Group Europe.
"Sound engineers and media professionals loved to use it to record samples, jingles and interviews - it's very easy to use MiniDisc equipment to edit audio on the fly - and they continue to stockpile the players and disks."
Sony ended shipments of its MiniDisc portable Walkman players in 2011.
The decision to halt production of MD-based hi-fi systems effectively marks its exits from the sector, although it will continue to make the cartridges.
However, the Asahi newspaper said other manufacturers such as Onkyo will continue to make MD equipment for remaining aficionados.
Related Internet Links
The BBC is not responsible for the content of external sites.