Hailo - cabbies and capitalists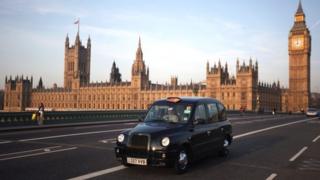 It's hard to think of many UK tech firms that have gone global in recent years - but a business started by three entrepreneurs and three London cab drivers may well be the cream of the crop.
Hailo, a mobile phone app which allows you to virtually hail a cab, has unveiled a major new investment and plans to launch in New York and Tokyo.
The app was launched in London in November 2011. Its success was by no means guaranteed, as at least half a dozen similar ideas were already on offer to the capital's taxi and minicab users.
I've been chatting to Hailo's chairman, American entrepreneur Ron Zeghibe, and to Russell Hall, one of the three cabbies involved from the start, about what really made a difference.
Ron, who's spent 20 years outside the US launching various businesses, explains that he and two other entrepreneurs had come up with an idea for a taxi app. But they realised that the key to success would be an intimate knowledge of the cab trade, and that's when they met up with Russell Hall and his two colleagues.
The cabbies had already been operating their own web-based service, Taxilight, for a couple of years but wanted to move it on to a new level. The two groups clicked.
"We sat in a cafe in Charlotte Street," says Russell, "and chatted for hours on end about the moans and groans of cabbies and customers, and after endless cups of teas and rounds of toast we shook hands on a new concept."
The key appears to have been making the Hailo app work first as a useful tool for cabbies, even before it was launched to consumers. Ron says what they came up with was "a working tool for drivers, with a whole series of aspects which made their working day more useful and effective".
This meant that when they did launch to customers, they already had hundreds of drivers signed up - so when you clicked to request a taxi there was a fair chance of getting one.
Today, more than 10,000 London cabbies are using the app - that's probably at least half of those who are actually out on any one day.
In my experience, the app works pretty well for the customer, although the cabbies I've spoken to, have given it mixed reviews. Some swear by it. Others say they resent having to hand over commission to Hailo, but feel they have to be part of a system which has quickly become almost compulsory.
That in a way is a measure of its success, and Hailo is hoping to reproduce that network effect in New York and Tokyo.
The founders admit that New York, in particular, is a very different taxi market. Far from doing the knowledge, it sometimes seems that cabbies rely on passengers to navigate them across the city. And instead of asking drivers to pay commission, users will incur a small fee every time they book a cab.
But having already launched successfully in Chicago and Boston, the Hailo team is confident its recipe will work anywhere.
I ask Russell Hall whether he has been taken aback by his progress from cabbie to part of a global business. He says he's not: "I've always believed it's what's been missing in any taxi market in any city in the world. What we've created in London will go to any city."
That kind of global ambition is what marks Hailo out from many other UK technology start-ups.
What also makes it different is the willingness of the venture capital community here and in the US to back it. The latest $30m investment round includes Union Square Ventures, which backed Twitter, along with original European backers Accel Partners and Atomico Ventures.
Ron Zeghibe, who has spent two decades trying to get businesses off the ground, says he has seen a real evolution in venture capital in Britain. "It is so different from 20 years ago. Today you truly have real money chasing good ideas."
So cabbies and capitalists have come together to build a global business from nothing, inside two years.
Maybe London's ambitions to be a rival to Silicon Valley aren't so bonkers after all - although as far as I can see, the Hailo team have got this far without straying anywhere near trendy Shoreditch.
Except perhaps to pick up a fare...