CES 'booth babe' guidelines revised but ban rejected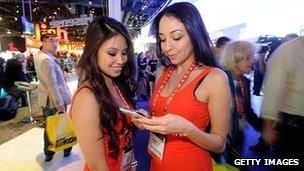 The Consumer Electronics Show (CES)'s organisers are to revise their guidelines on "booth babes", but have once again rejected calls to introduce a dress code.
Campaigners want exhibitors to be banned from using models wearing scanty or provocative attire.
CES's managers suggested such a move would be "unenforceable".
However, the UK's Eurogamer Expo recently announced a similar restriction for its event.
Shanghai's ChinaJoy digital conference and Los Angeles's E3 video games expo have previously issued restrictions on the use of semi-clad models - but to limited long-term effect.
CES is run by the US's Consumer Electronics Association (CEA), a not-for-profit lobby group representing the tech industry.
Although it is far from being the only trade show organiser to permit the use of female models, it has become the focus of some critics' ire.
This may be in part because of its long association with the phenomenon.
More recently the CEA's President Gary Shapiro split opinion when he told the BBC that the practice was "a little old school, but it does work". He added, during the 2012 interview, that the CEA's opinion on the matter was "irrelevant".
A petition by a Forbes journalist has since been published on Change.org calling on him to impose a ban. It highlighted one exhibitor - a hard drive manufacturer - which had employed four female models to pose wearing only bikini bottoms, pasties and body paint at 2013's show.
"I'm not against spokesmodels," wrote Connie Guglielmo.
"Hire all the pretty people you want. Just dress them as though they actually work at your company."
CEA recently confirmed that its guidelines for 2014's event would be amended to warn attendees that the use of "booth babes" might reflect poorly on exhibitors, and that they should give "thoughtful consideration" to the matter to avoid alienating or offending others.
Karen Chupka, CEA's senior vice president of events and conferences, told the BBC that further action might be taken following an ongoing review but indicated that a ban was unlikely.
"We do not want to create and impose arbitrary or unenforceable rules, or worse, inch our event towards a Talibanesque ban on exposure of skin," she told the BBC.
"Mandating a dress code of business casual for 150,000 people or even for the subset of 51,000 exhibitor personnel, as some suggest, would mean banning blue jeans, t-shirts and other common apparel while also trampling on freedom of expression.
"More, mandating and enforcing a dress code would present a challenge to our security personnel and divert them from their most important and essential duty: ensuring the safety of all of our customers.
"We also recognise the right of our exhibitors to make individual decisions about marketing their products and their exhibits as they see fit and that meet our legal guidelines as well as generally acceptable standards of decency."
CEA may wish to avoid following in E3's footsteps.
The video games show's organiser, the Entertainment Software Association, introduced limits on what models could wear in 2006.
"Material, including live models, conduct that is sexually explicit and/or sexually provocative, including but not limited to nudity, partial nudity and bathing suit bottoms, are prohibited on the show floor, all common areas, and at any access points to the show," its guidelines stated, adding that it might impose a $5,000 (£3,183) fine on those who disobeyed.
Despite this, Eurogamer is pressing ahead with a ban of its own at its London expo in September.
The move followed complaints about Virgin Gaming models having QR codes printed on their buttocks last year. Eurogamer's event are open to the public, unlike CES.
"Our [new] policy is that if people turn up in character then we're not against that," said David Lilley, the event's director.
"If, for example, Square Enix wanted to bring their new Lara Croft, then that's fine."
"But just having publicity girls for the sake of drawing attention to women is not really relevant or acceptable. If you see a girl wearing hotpants... or publicity girls that are undraped then it just doesn't seem appropriate."
Mr Lilley added that he believed "common sense" could be used to determine what clothing was allowed without becoming overly prescriptive.
Related Internet Links
The BBC is not responsible for the content of external sites.