Heads in the cloud: Evernote's quest to stay forever young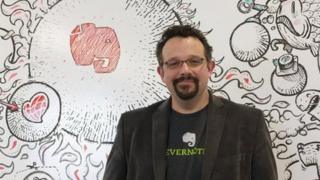 Can Evernote find the secret to eternal youth?
The memory aid application's boss, Phil Libin, aims to try.
"Every time we need to make a decision, we ask is this more or less likely to make us be a 100-year start-up?" he says of the business he founded in 2008.
This doesn't mean he wants to avoid expanding the business or to avoid a share sale - both are on the cards - rather he's determined to keep his creation nimble.
"It's really about how quickly you can make decisions and how relentlessly you battle encroaching corporate stupidity," he adds.
"It's like you are locked in a battle against the natural forces of corporate bureaucracy - the things that just want to seep in and make everything stupid. It's difficult to fight that - but it's fun."
The charismatic business leader has invited the BBC to his new headquarters in Redwood City - a tech cluster south of San Francisco that's also home to games giant Electronic Arts and business services titan Oracle.
In a room off the building's spacious open plan office Mr Libin drops words such as "quest" and "mission" into the conversation as he describes how he wants the public to adopt his app to make sense of all the notes, articles, photos and other material gathered over their daily lives.
"We really want Evernote to be the place where you capture all your important memories," he explains.
"But we don't want it to be where you store your media. Evernote isn't where you should be putting your ebooks or 20 gigabyte copy of Avatar.
Hack figures
"That film is the same everywhere - there is nothing personal about it. But we do want you to store your impressions, your thoughts and your notes about it."
Competitors exist - Microsoft is pushing its OneNote service and there are other smaller rivals including Springpad and Catch. But for the moment, at least, Evernote and its elephant icon probably have the most buzz.
So just how popular is it? After a recent hack attack the firm talked of having 50 million accounts.
When pushed it acknowledges its number of active users - those using the service at least once a month - is closer to 15 million, with the UK accounting for 620,000 of these.
That's some way behind Facebook's one billion-plus statistic - but still relatively high for a productivity app.
And it's high enough for the business to join Silicon Valley's elite club of tech firms with a $1bn (£665m) valuation based on private stock sales.
In another sign of success, more established brands have made efforts to associate themselves with the firm.
Moleskine has launched a range of Evernote-branded notebooks and Samsung surprised many at January's Consumer Electronics Show (CES) when it unveiled a fridge with an Evernote-enabled touchscreen.
Some critics saw this as outlandish, but Mr Libin insists the tie-up is no joke.
"It's funny, I first talked to Samsung about building Evernote into a refrigerator in 2008 and nothing got started for a long time," he reveals.
"We've always had the idea that Evernote should be everywhere. It needs to be ubiquitous because we are going to build you a second brain - the idea is, eventually, it's just part of you.
Conflict of interest
"So, obviously it should be in your refrigerator because it's really a hub of your family information... I'm psyched that they did that."
Cars and Google's Project Glass eyewear are also within the firm's sights, he adds.
Evernote is losing money, although it was briefly profitable three years ago. Mr Libin says it should be back in the black by 2014, but for now his priority is growth.
It must be a temptation to speed things up by introducing adverts related to the contents of users' posts - just as other cloud-based services have done - but Mr Libin firmly rules this out.
"People don't fully recognise how much an inherent conflict of interest can hurt brand loyalty," he says.
"Google, Facebook and others are great companies but they have that conflict.
"Whenever you use one of the products, in the back of your head you're like, you know that you were the product.
"We try to only make money when people really love the product and want to pay us [for premium features]."
Another option he rejected was to write Evernote's app in HTML 5.
Using the web language would have made it less time consuming to offer the software across so many platforms. It supports Windows Phone, Blackberry and LG's WebOS in addition to iOS and Android.
But Mr Libin dismisses it as a "lowest common denominator" technology, adding that there are benefits to developing different versions of the app with slightly different sets of features.
"If you make consistency a goal you achieve it through mediocrity," he exclaims.
"You achieve consistency by making everything equally crappy.
"We've always said, let's have independent teams that compete with each other to make the best version for each platform."
He suggests this means his workers learn from each other's achievements ensuring the teams continually leapfrog each other.
The downside: "It's much more expensive to develop that way," he admits.
After life
Mr Libin may want to keep Evernote forever young, but death is still on the agenda.
The firm recently updated its privacy policy to clarify what happens when its users pass away.
"There really is no right answer," he says, "but we've said since our primary mandate is everything is private and protected data, we're going to honour that after your death.
"So, we will not turn your data over to anyone, next of kin or whatever. The only way we're ever going to turn your data over to someone is if there's a court order to do it."
But longer term Mr Libin acknowledges Evernote needs to offer a way for users to control what happens to their online memories after both their death and, potentially, his company's.
As a result he's already planning to offer a new product provisionally named Evernote Century.
"It ensures the availability of your data for 100 years and it gives you a way to designate who should have access to it and how," he explains.
"The question is how do you make it economically viable for somebody to still care about keeping your data accessible... even if Evernote the corporate entity is no longer in business."
He admits he has still to fully puzzle this out, but still hopes to release the product before the end of the year.
"I don't think it's a problem that's been answered before," he says, "but if we're saying this is your lifetime memory, I think it's part of our charter to figure this out."