Freemium - and a £1,700 iTunes bill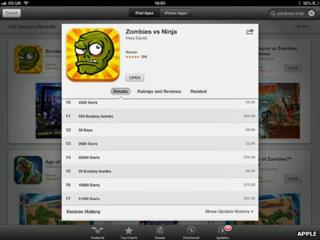 How much can it cost to play a free game for a few hours? As one family in Bristol found, the price can be more than £1,700.
The Kitchen family are getting their money refunded after five-year-old Danny somehow managed to buy a huge haul of virtual goods in a game called Zombies vs Ninja. But the story highlights a change in the games industry's business model that some find disturbing.
The case is obviously a wake-up call for parents - you should treat your iTunes password or any others that unlock payments online as securely as you would the PIN on your debit card.
Would you hand that to your five-year-old and let him pop out with it?
Then again, I was taken aback when I took a look at the Zombies vs Ninja game by the huge amount that you can pay with a click. The in-app purchases menu offers some 69p options - but you can spend as much as £69.99 on 333 keys or "ecstasy bombs".
But when you first find the game on Apple's App Store, you have to look quite closely to understand that danger, and Apple may come under pressure to force developers to display a health warning.
Some do this already - the makers of Dragonvale warn you about in-app purchases and explain how you can switch them off (see below).
But this issue is only going to get bigger because the "freemium"model - where you get the original product for free and then pay for extra content - is sweeping through the games business and online media industries.
The idea has spread from China and South Korea, where it has been the standard way for publishers to make money from games. In a world where piracy is a big threat and consumers are reluctant to pay for anything, this business model seems to work.
Even a couple of years ago, the Chinese were spending $5bn (£3.3bn) on in-app purchases - in a country which has been seen as an impossible place to make money because of copyright theft.
And the model is also generating serious cash in the US, where the average in-app purchase is $14 (£9.30) and developers are finding significant numbers of people willing to spend $50 or more.
Those figures were given to me by the games industry consultant Nicholas Lovell who is writing a book about the freemium model and its impact on various media industries.
He says there are two views about freemium:
"One camp says we are providing a brilliant entertainment experience and if adults want to spend $80 a month on it, they should be allowed to do that. The other view is that you are taking psychological manipulative tricks that have been proven to work in the gambling industry and using them on poor unsuspecting victims."
Mr Lovell believes that although we're in something of a "wild west" period right now when anything goes, this way of selling games will prove its worth for both the industry and its consumers. He says the days when you could charge £40 for a packaged game are numbered.
"In a world where there is an enormous amount of content it is really hard to find a customer. Once you've found a customer you don't want them to give you one amount of money and never pay again. "
Some companies are trying to have it both ways, expecting customers to pay for the original product and then also make in-app purchases:
"I don't think that's morally wrong but I do think you then have a different emotional relationship with fans - they can think they're being price gouged."
This change in the way the industry is funded is already proving controversial.
Real Racing, a popular game that used to cost somewhere around £4.99 is now going to be free - but you will have to pay quite substantial costs to keep your car on the road, with some in app purchases costing as much as £69.99.
Some fans have reacted angrily. "I'd pay for a full featured game rather than having my money squeezed this way," says one reviewer on the App Store.
And this phenomenon is not restricted to Apple's platform.
One of the most popular games on the Google Play store for Android devices is The Simpsons Tapped Out. You can play it for free, but are encouraged to make in-app purchases to make the experience better.
But when you first launch the game you find Homer playing a game on a tablet, and quickly racking up a $1,000 bill.
It is all played with typical Simpsons humour - but for parents and for some adult gamers, freemium is a joke that is already wearing thin.