Facebook: Web reaction to the News Feed revamp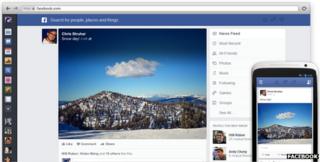 Most Facebook users have yet to experience its new look - the switchover will take months to complete - but details of the changes are starting to sink in.
The move is perhaps less shocking than the introduction of Timeline or Graph Search because many of the website's headline changes are already familiar to its app users.
Even so, marketers have been puzzling over what having bigger pictures means for the effectiveness of adverts, while the public has expressed mixed feelings about the promotion of news feeds and other changes.
Many have also noted Facebook's home page now looks more similar to that of its rival Google+, although in fairness it was less than a year ago that critics were highlighting that Google had "borrowed" some of Facebook's features for its social network.
This is a selection of the material published online in the hours after the California press conference announcing the revamp:
The changes will appeal to advertisers who have been looking for more ways to capture the emotional impact of visual advertising on the social network, particularly on mobile devices.
Having specific feeds is a good idea, but it remains to be seen how much people will use them. We can expect to see a lot more companies asking you to "like" them so that they can get on your feeds.
History has already shown that Facebook users don't take kindly to having more than one feed to look at, even if that feed is technically making their lives easier and removing some of the less important updates from the main feed.
Ads weren't discussed at all [at the press conference] which is where most of the clutter is. It will be interesting to see how advertisements evolve with this new design, and if we'll see more of them.
More screen real estate and more dynamic ads could spell immediate benefits for advertisers... A developer of social games may now have the ability to just advertise on the Games feed as opposed to the general News Feed. And multiple news feeds means the potential to serve more ads.
The biggest change Facebook announced today, from the perspective of publishers and the people who want to read them on Facebook, is the "following" tab [which] will show "every single post" from the people and publishers you subscribe to. If true, that will go a long way toward building trust in Facebook as a home for breaking news.
Feeling a sense of deja vu on seeing the redesigned News Feed on Facebook? Well, you're not alone - there are many who think Facebook's revamped News Feed looks a lot like a Google+ homepage.
To say Facebook ripped off Google+ would be incorrect. Facebook is clearly taking influences from a number of different sources, including the playfulness of Tumblr and countless mobile design trends.
Third-party applications are going to get a crack at showing richer content. This opens the door for existing applications that were hampered by the News Feed to show off better content, as well as leaving the door open to newer applications to be built to take advantage of the new, more visual News Feed.
In the past, users have protested sudden sweeping changes to site features. By bringing the new News Feed to users bit by bit, Facebook may be able to drum up more excitement.
Facebook:
Hope I will get used to this design soon though still prefer the old one. - Yousef Barahmeh
Be great if we could actually have a say over the TOTAL privacy of our profiles - Lisa Exeter
Don't care what it looks like i just hate these "suggested posts" on my wall. Spam ads sanctioned by FB! - Barrie Mason
Looks cleaner - Ouzair Hafeez
It's not like anything can always be perfect, but change and constant innovation will one day lead to greater improvement. - Philip Gold
Twitter:
I think it makes the web interface look more touch friendly than needed. I want a different fb experience on the web to the mobile. - @omracer
Dare I say it... It kinda looks better - @LizzieBettySL
I have a group page and it stretches the header picture and completely ruins the look of the page. IF IT AIN'T BROKE DON'T FIX IT - @watchnut
Hate to admit it ... the new #Facebook News Feed looks promising. Better designed, visually rich. @bszymeczko
I think that I'm glad I've had these same features for a year on Google+. Shameless copying on Facebook's part - @DJNattyD
I'd like to congratulate the Google Plus UI/UX team on their successful launch of the new Facebook news feed! - @0ll13 3xl3y