Technology that works behind closed doors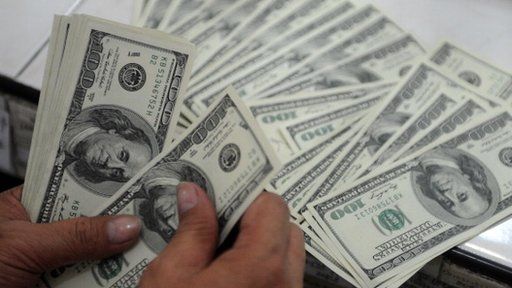 With lots of start-ups jostling for attention - not to mention funding - in Silicon Valley, the Launch Festival in San Francisco can be a good opportunity to get noticed.
Thirty-seven unknown companies were invited to present at the sixth annual event last month.
Previous Launch Festival winners include the business-focused social networking site Yammer, which was bought out by Microsoft last year for $1.2 billion (£800 million).
Two of this year's winners, both of whom focused on technology that works indoors, explained their ambitions.
NAVISENS - INDOOR NAVIGATION
Today, location-aware apps are everywhere. Digital maps on smartphones provide turn-by-turn directions, and point the way to nearby coffee shops, eateries, services, and other areas of interest.
Global Positioning System (GPS) technology, however, has one significant drawback.
"GPS stops working indoors," said Ashod Donikian, founder, chief executive and currently sole employee of a start-up called Navisens.
"It doesn't penetrate walls."
Navisens attended the Launch Festival to demonstrate its indoor positioning system. It claims to provide navigation inside buildings, stadiums, airports, shopping malls, hospitals, museums without using GPS or Wifi.
The firm says it also works underground.
Called "Motion DNA", the patent-pending software developed by Navisens detects a person's realistic location and position inside a building in 3D and in real time.
Motion is the core driver of location here.
Using an approach known as "inertial navigation", modified from military and industrial applications and Dr Donikian's own work with firefighters and first responders, Navisens' algorithms process raw data gleaned from low-cost motion sensors on smartphones.
While WiFi-based systems only detect location within two metres or so, Navisens claims to pinpoint a person's whereabouts within less than one metre.
High resolution is achieved by measuring motion rather than radio frequency signals as wifi does, and is based on where and how the person moves through an environment over time.
For example, Navisens can trace where a person is heading; the direction they are facing (to an accuracy of 1cm); track if a person turns a corner; moves slow or fast; walks upstairs or downstairs.
Navisens also knows if you have stopped moving.
"It's reactive to what you do," said Dr Donikian.
"It can calculate your complete orientation."
In the future Navisens hopes to be able to display that orientation in the form of, perhaps, a small green triangle - which has obvious appeal to potential advertisers seeking out ways to know how, where and when potential customers are almost face-to-face with their products.
Other companies are already working on indoor navigation technology and there is a lot of interest from the tech giants - Apple is reported to have paid around $20m (£13m) for indoor navigation start-up WifiSlam last month.
"I think smartphones will need to have an approach that is independent of radio infrastructure and WiFi and things like that," Bruce Krulwich, Chief Analyst at Grizzly Analytics, told the BBC.
However, there is a potential for accumulative errors to creep in when using current indoor navigation technology, he added.
"Of the six or seven companies that have seriously invested in the approach, most have tried to incorporate some other type of system such as radio or maps in order to reduce the error they are getting."
Dr Donikian says he wants to work with other companies to eliminate that margin for error.
At the Launch Festival, he used the example of a taxi driver waiting for a client at an airport to explain the aim of Navisens during his presentation to the 5,000 attendees.
"Using our technology," Dr. Donikian said, "the driver can see you're at the third terminal, at the Virgin America stand, outside door number seven, at the arrivals level."
Navisens was awarded best technology prize at the end of the conference.
CUBESENSORS - TAKING ROOM TEMPERATURE
Just two weeks after Ales Spetic introduced his unknown, self-funded startup onstage at Launch, pre-orders for his invention had sold out.
Weighing just 100 grams, Cubesensors fit in the palm of your hand.
The tiny tracking devices are designed to monitor the environment inside your home and office.
Like Fitbit and the Nike Fuel Band, Cubesensors take their cue from the "quantified self" movement.
Longer term, Cubesensors has set its sights on the "Internet of Things" (networked smart machines and appliances) and measuring everything possible about the indoors.
"The indoor environment is important," said Ales Spetic, the founder and CEO of Cubesensors.
"It impacts how we live, how we perform, and how we feel."
"We spend 90% of our lives indoors and we have no clue about it," he told the BBC.
"We know way more about the temperature outside or the food we eat or the number of steps we take."
Serial entrepreneur Mr Spetic, along with his team of five engineers based in Slovenia, hopes to change that.
Cubesensors has spent over a year perfecting its table-top ready smart devices.
The cordless, small plastic cubes measure two inches square, and come with a white plastic casing and aluminium front resembling mini-stereo speakers.
They contain seven sensors and rechargeable batteries said to run for two months.
Their job is to continuously monitor temperature, humidity, air quality, noise, light, vibration, and barometric pressure.
All of that ambient data is collected continuously in real time and sent over an industrial-grade wireless network called Zigbee to a web-based dashboard or smartphone app.
Users receive instant mobile alerts about changes in indoor air quality, humidity, and noise levels, in any rooms where the trackers are located.
"Nobody really monitors humidity until it's a problem," Mr Spetic said.
"Cubesensors can detect exact humidity levels indoors. Knowing this can figure into health and wellness. At levels above 60% or higher, fungi and bacteria can grow, leading to mould which can be very dangerous to humans, leading to neurological symptoms, especially over extended periods.
"I'm not saying Cubesensors can prevent or detect mould, but you'll know way before you see it," he said.
"This is not just an extended thermostat for one room," Mr Spetic added.
"If you have the cubes in all rooms of your home or office, that's where the power comes in because you get an overview of your home environment."
In the future, Cubesensors could be connected to other smart devices enabling things like opening windows automatically when it gets too hot or aerating offices and adjusting indoor temperatures before office workers start getting drowsy at meetings.
Cubesensors was named best hardware start-up at LAUNCH 2013.
Related Internet Links
The BBC is not responsible for the content of external sites.