Porn sites reject 'growing risk' of malware claim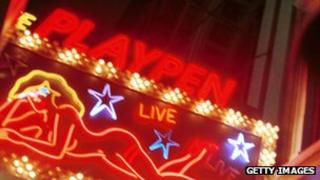 Pornography websites identified as potentially putting their visitors at risk of downloading malicious software have hit back at the claims.
Last week, the BBC reported on figures that suggested two popular sites posed high levels of risk.
The research, conducted by security expert Conrad Longmore, referenced data compiled by Google.
One of the sites named, Pornhub, said the numbers quoted "grossly exaggerate" the threat.
Another, xHamster, admitted it did suffer problems "in the past", but that rigorous systems were now in place.
"We had an issue with malware in the past and we totally stopped working with that advertising agency because of that problem," a spokesman said in an email.
"Now our reliable partners are checking new advertisers very strictly, so it's almost impossible to put a new site with malware on xHamster.
"The problem is that even reliable advertisers sometimes can be hacked. For example, in the past we had such issues with one of the top five porn paysites in the world.
"Their ad system was hacked and used for malware."
'Clearly a problem'
Mr Longmore - who published the study on his blog - called the response a "non-denial denial".
"The data is open to interpretation, but there was clearly a problem just one week ago, there may not be a problem today," he said.
"There might be a problem tomorrow, of course."
The research was based on statistics from Google's diagnostic service which crawls web pages for harmful content and posts a 90-day review of what it finds.
For xHamster, Google's figures indicated that "suspicious" content was found on the site as recently as 6 April.
The most recent instance of "suspicious" content found on Pornhub was on 28 January, according to the figures.
But Manwin, the company that owns Pornhub, told the BBC the risk was "minute".
"On average, the website serves over 15.5 billion ads every month," a spokeswoman said.
"Isolated incidents of malware are immediately caught, and minute when considering the mammoth amount of traffic our site receives.
"Pornhub prides itself on providing the optimal user experience, in an environment safe from the threat of infection from third-party malvertisements."
She added that according to Pornhub's own figures, only 0.003% of advertising displayed on its site in a three-month period was potentially harmful.