Synthesiser software album to fund programming lessons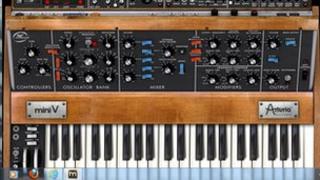 A group of software developers is launching an album of electronica music tracks made entirely from software re-creations of classic synthesisers.
They hope to raise money for maths workshops for children at Bletchley Park, and programming lessons at the National Museum of Computing.
The software mimics the sound produced by synthesisers such as the Minimoog.
The Minimoog has been used by hundreds of musicians including Rick Wakeman, Coldplay and Janet Jackson.
It was first released in 1970, replacing earlier versions designed by Dr Robert Moog, known as a pioneer of electronic synthesisers who made his first model at the age of 14. He died in 2008.
Price tag
While vintage hardware such as the Minimoog, Yamaha CS-80 and Oberheim SEM can cost hundreds of pounds, developer and amateur musician Jason Gorman says his suite of nine digital synthesisers costs just 400 euros (£337).
"Some of the album tracks use 12 or 13 virtual synthesisers. To buy one each of those I would have had to remortgage the house," he told the BBC.
"Software synthesisers have been around for a while, but it's only in the last five years that computers have become so powerful that it's possible to have a dozen running at the same time on a laptop.
"Anyone with a laptop and a bit of know-how can now make an album and distribute it around the world."
Mr Gorman says the software works by "recreating the circuitry" of classic synthesisers, while plug-ins exist to give the music that magnetic tape sound.
"Software synthesisers are good enough now that I can't tell the difference. Recreations of the amps and the effects are accurate enough," he said.
Hardware appeal
However, some of the big recording studios report that traditional hardware is still in demand among musicians despite the high cost of maintaining it.
"It's like buying a vintage car," electronics engineer Richard Barrie, who owns a broken 1970s mixing desk used by Mike Oldfield to make Tubular Bells, told the BBC last year.
"Modern cars are great but when a vintage car is working well, it's such a lot of fun."
Mr Gorman, Chris Whitworth, Brian Hogan, Lance Walton, Yuri O'Donnell and Peter Camfield produced music for the Music by Programmers compilation. They are all software developers and amateur musicians.
All the money raised by the album will go towards funding maths and programming workshops for young people.