UK buyers of Samsung Galaxy S4 face delayed deliveries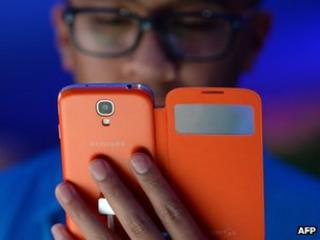 Many Britons keen to get their hands on Samsung's S4 phone look likely to be disappointed.
Samsung has said that "unprecedented" demand for the handset has meant stocks were running low in the UK.
UK operators have been sending messages to many people who pre-ordered the S4, warning that the handset would reach them after the official launch date.
Some messages say people may have to wait up to a week to get hold of the new phone.
Samsung unveiled the Galaxy S4 in mid-March and planned the worldwide launch for 27 April. Interest in the phone is high because of some of the novel technologies, such as the ability to control it with a glance, that are built in.
However, many people who pre-ordered the phone so it would arrive on launch day may now get their handset later.
"There's been unprecedented demand for the Galaxy S4 in the UK," Samsung told BBC Radio 4's You and Yours. Many people contacted the programme to report that they had received messages from operators and others retailers warning about the shortage of S4s in the UK. Some were given a delivery date of 3 May, almost a week later than originally planned.
'Stock constraints'
In its statement, the electronics company said it was "working hard to ensure that pre-orders and sales across all channels are fulfilled as soon as possible".
UK operator 3 told the BBC that Samsung was "experiencing stock constraints" and said it regretted the frustration this would cause customers. The UK's other major operators also said they were having stock problems but were looking to prioritise customers who pre-ordered over those that walk into shops to buy the gadget.
Similar delays were being reported in the US with operator Sprint delaying the opening of its online S4 store by a week to cope with demand.