New adverts 'could track your eyes' in supermarkets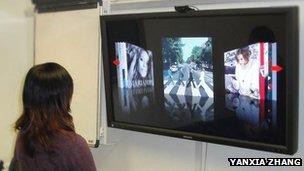 An advertising system which is able to track your eye movements while you shop has been created by researchers based at Lancaster University.
The Sideways project uses software to locate faces and eye movements of shoppers captured on camera.
It could allow for video screens which change adverts depending on what you look at in a shop.
The team told the BBC they hoped the technology would be in use in shops within five years.
The technology can also be used to allow people to use their eyes to control content on screens, such as scrolling through items on a list.
"The system uses a single ordinary camera that is placed close to the screen," explained senior researcher Andreas Bulling. "So we don't need any additional equipment.
"The system detects the faces of people walking by and calculates where the eyes are relative to the eye corners."
Mr Bulling has worked on the project with fellow researchers Hans Gellersen and Yanxia Zhang from Lancaster's School of Computing and Communications.
Existing eye-tracking technologies tend to require a lengthy set-up process, a problem which is not an issue with Sideways.
"With normal systems you always have to calibrate the tracker to the specific user," he explained to the BBC.
"Calibration is a major stumbling block for interactive gaze-based applications at the moment because people always have to go through this calibration procedure - it's time-consuming and annoying."
Eye-tracking is starting to become more commonplace within popular technology products.
One company, Tobii, has been backed by the likes of IBM and has shown off prototypes of a gaze-controlled television.
Last month, Samsung launched its latest flagship smartphone, the Galaxy S4. It monitors whether the user is looking at the device by tracking eye movement.
"Eye-tracking is definitely something that is currently a hot topic," said Mr Bulling.
"It is really gaining momentum. I fully expect this technology to become available widely in the near future."
However, as with many new technologies designed to learn more about how we act, concerns over privacy are likely to arise as the systems are rolled out.
"I guess it always depends how this information is used," Mr Bulling said.
"If the system is only there to improve the shopping experience, customers will probably be fine with such a system.
"If it's a more passive monitoring system of gaze-information, so the user is not aware of it, this could really have considerable privacy challenges."