Nyan Cat and Keyboard Cat creators sue Warner Bros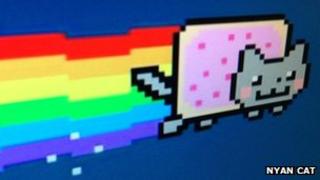 Warner Bros is being sued for the alleged unauthorised use of two cats that have achieved internet fame.
Clips of Nyan Cat and Keyboard Cat have each spurred tens of millions of views since appearing online in 2011 and 2007 respectively.
The complaint alleged that the cats were used without permission in Scribblenauts, a series of games on the Nintendo DS and other platforms.
Neither Warner Bros or 5th Cell, the game's developer, have commented.
Court documents alleged that Warner Bros and 5th Cell "knowingly and intentionally infringed" both claimant's ownership rights.
"Compounding their infringements," court papers said, "defendants have used 'Nyan Cat' and 'Keyboard Cat', even identifying them by name, to promote and market their games, all without plaintiffs' permission and without any compensation to plaintiffs."
Japanese pop
The Keyboard Cat was first partially created in 1984 by Charles Schmidt, who filmed his cat Fatso "playing" a electric keyboard.
More than two decades later it was put to music and uploaded to YouTube in a clip called "Play Him Off, Keyboard Cat" - internet users would often use Keyboard Cat as way of mocking subjects in videos.
Nyan Cat, designed by Christopher Torres, is described in court documents as "a character with a cat's face and a body resembling a horizontal breakfast bar with pink frosting sprinkled with light red dots, flies across the screen, leaving a stream of exhaust in the form of a bright rainbow in its wake".
A YouTube video combining the cat animation with a Japanese pop song was the fifth most-viewed YouTube clip in 2011.
Both Mr Torres and Mr Schmidt own copyrights and trademarks of the characters.
They have called for an injunction preventing the sale of Scribblenauts until the matter has been resolved.