Songkick Detour 'Kickstarter for gigs' is launched in London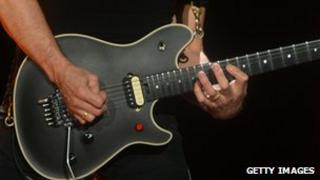 A service allowing fans to club together to pay bands to play gigs at their request has launched in London.
Detour, from London-based start-up Songkick, allows fans to crowd-fund the logistics of a concert by pledging to buy enough tickets to cover costs.
Songkick's co-founder Ian Hogarth hopes it will eventually encourage bands to play in parts of the world they would not have previously considered.
The company takes a 10% cut from tickets sold through the site.
"Up until now, if you're a huge fan of an artist, the only way to influence whether they come to your city is by leaving a comment on their Facebook page, or @replying them on Twitter and that doesn't really do anything given the heavy financial cost of touring," said Mr Hogarth in a blog post announcing the launch.
London launch
Detour had been in a limited beta version since November, with 1,000 fans invited to test the service and attempt to fund gigs.
In that time, 10 shows have been arranged - including one featuring US emo band Braid, who are set to play a London gig in July after being backed by 114 fans.
Members of the site can suggest artists they would like to see play, and other members are able to pledge to buy a ticket - and state what they would be willing to pay.
After enough pledges are gathered, Songkick works with promoters to organise the venue and other logistics. Once confirmed, fans are notified and the tickets are purchased.
Thursday's launch sees the site become available to arrange shows in London - with the rest of the UK being added soon.
Cynicism
It is potentially an effective way for smaller acts to make more money from their fans, according to Mark Mulligan, an analyst from Midia Consulting.
"In the last decade or so you've ended up with artists being much more in touch with fans, but it being less straightforward to make money.
"Many artists on indie labels are now finding that they can create decent livings by using tools like Songkick Detour."
He added: "If a band was to find out that they had a big pocket of fans in Inverness but no-one in-between - they might consider that one-off trip. It's a win-win - fans get to see the artists they want to see."
He also predicted that some older acts may be convinced to reform if fans showed enough support for a one-off show.
Music is a popular area for crowd-funding, with Kickstarter, the leading website in this area, being used to finance albums and tours - and even festivals such as Alt Fest.
However, some in the industry worry that such models - which rely on the excitement and anticipation of fans - can be exploited.
"Helping create albums - I don't agree with that per se," said Raziq Rauf, editor of Thrash Hits. "They're just souped up pre-sales."
Follow Dave Lee on Twitter @DaveLeeBBC