Jennifer Lopez to create Latino mobile store chain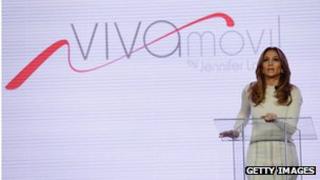 Singer and actress Jennifer Lopez is to open a chain of 15 mobile phone stores in the US targeted at Latinos.
The Jenny From The Block performer is majority owner of Viva Movil as well as its "chief creative officer" and marketing face of the brand.
The company promises a "culturally relevant" experience with bilingual staff, the company said.
Lopez - also known as J-Lo - is the latest in a growing line of celebrities getting involved in technology retail.
Performers such as Will.i.am from the Black Eyed Peas have shown keen involvement - taking on roles as "creative figureheads" in companies looking to expand their target market.
More recently, singer Alicia Keys has been the public face of Blackberry, an image that slipped slightly when she was seen to tweet not from the firm's new smartphone, but from an iPhone instead. She blamed the tweet on "hackers".
Most notably, Beats By Dre headphones - endorsed and part-designed by rapper Dr Dre - have been a runaway success, bringing in revenues into the hundreds of millions.
'Growing demographic'
Jennifer Lopez's plans do not as yet involve designing technology, but rather a retail experience tailored towards the Latin American community.
"Latinos need a place to go and they need to be catered to because it is such a growing, growing demographic and market and people want to capture that, and they deserve to be catered to," she said in an interview.
The store will be an authorised reseller of products available on the Verizon network, which includes devices such as a the iPhone and Samsung Galaxy.
The Associated Press has noted that previous attempts at marketing directly to Latinos have centred around low-cost, contract-free offerings - not high-end phones on monthly plans.
The news agency added that some previous attempts to market directly to Latin Americans have proved unsuccessful. Movida Communications, a firm offering Spanish-language mobile services that launched in 2007, closed after less than a year in operation.
The first Viva Movil store will open in New York on 15 June, with others in Miami and Los Angeles to follow.