Tube tells the clumsy: please mind the mobiles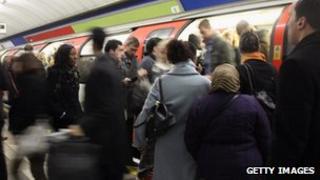 Passengers on the London Underground have been warned to keep better hold of their smartphones after dropped devices have caused delays in service.
Anecdotal evidence from Tube drivers and staff suggests such incidents have been increasing since January.
Wi-fi internet access has now been installed across much of the 150-year-old transport network.
On the Victoria Line, a special announcement reminding customers to take extra care is being trialled.
The wi-fi system, installed and maintained by Virgin Media, has 800,000 registered users, according to figures released by the company at the end of last year.
Previously, most Tube stations - some of which are deep underground - would be communications black holes, requiring travellers to bury their gaze in newspapers or books to make journeys more interesting.
'Number of incidents'
But a spokesman for the Victoria Line - one of the network's busiest routes - explained that owing to the short intervals between trains, delays caused by phones needing to be retrieved from the track had created problems.
"We're asking customers on the Victoria Line to be more careful with their mobile and smart phones while waiting for a train," said Dean Horler, its stations manager.
"There have been a number of incidents where the service has been delayed due to staff having to retrieve phones that customers have dropped accidentally onto the track."
He urged customers to not attempt to reach dropped phones themselves.
"In some instances, customers have put their own safety at risk by attempting to get down onto the electrified track to retrieve their property."
Station staff are required to stop trains and put protection in place to retrieve articles from lines.
'Mesmerised'
For less important items, such as hats that have been blown off, customers are often told to collect items later in the day to avoid disrupting peak-time services.
To combat delays, customers on Victoria Line platforms are being played this message: "Please ensure you stand well back from the platform edge when using your mobiles and smartphones."
London Underground said it would be "monitoring its impact over the coming months".
Annie Mole, a writer who blogs about the Underground, expressed bemusement at the announcements.
"Are [Transport for London] worried that we're becoming so mesmerised by the internet that we'll fall onto the tracks?" she wrote.
"Surely we can be just as engrossed in newspapers, books or magazines and we should be warned to stand back from the edge when reading those too?"
Follow Dave Lee on Twitter @DaveLeeBBC