Minecraft creators release beta of Scrolls game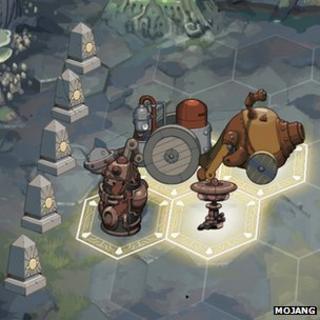 Minecraft-maker Mojang has released an early version of its newest game Scrolls.
The battle game pits two players against each other who fight using heroes, artefacts and spells from a virtual deck of cards.
The open beta or test period for Scrolls started on 3 June.
As with Minecraft, those who buy the beta version, which costs £13 ($20; 15 euros), pay a reduced price and get future updates for free.
The game revolves around a virtual deck of cards that players acquire by trading with other players or by spending a virtual currency, called gold, which they amass as they battle. Players can also convert real world cash into a separate currency, called shards, to help them build up a decent deck of cards.
During a bout, each player occupies one side of a virtual board and must defend five structures, called idols, from attack. The first player to destroy three of an opponent's idols wins the match. The heroes, spells, artefacts and structures on Scrolls cards underpin a player's strategy for protecting his own idols while attacking those belonging to their opponent.
Mojang is only the latest company to develop and release a battle game based around a deck of cards. Later in 2013, it will face competition from World of Warcraft creator Blizzard which is due to release a card-based battle game called Hearthstone that is based around Warcraft lore.
There is also a huge number of well-established collectable card games including Duel of the Planeswalkers.
While developing Scrolls, Mojang had to defend itself against a legal claim by developer Bethesda which makes the Elder Scrolls series of games. Bethesda wanted Mojang to change the name saying two games with the same name risked confusing people.
The two companies reached a settlement which allowed Mojang to keep using the name provided it never became a competitor to the Elder Scrolls.
Mojang is best known as the creator of the hugely successful Minecraft game that is set in a world made of blocks. About 17 million copies of the game have been sold, a total which includes versions for PCs, the Xbox console and phones and tablets.