Three's mobile network is hit by connection glitches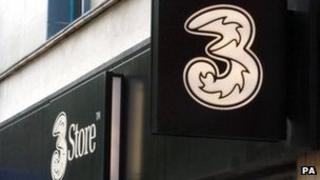 Many UK customers of mobile operator 3 have been left without internet access thanks to a network glitch.
The problem is only hitting 3G services used to go onto the internet. Calls and texts are working as normal.
The loss of connectivity is thought to have started late on Monday night and was continuing to cause problems into late morning on 4 June.
Three apologised for the inconvenience and said it hoped to restore service soon.
The problems affected customers across the whole of the UK but Three did not reveal just how many had lost service. Many people took to Twitter to report problems. Three has about 9 million customers in the UK.
In a statement, a spokesman for Three said it was beginning a "phased process" to restore service on 4 June.
A couple of hours later it issued another statement saying net access had been restored in London and that it should end interruptions to other parts of its network by the afternoon "if not sooner". It has not given any details about the cause of the problem.
In the past service interruptions on other networks have been blamed on botched updates and database failures.
In October 2012, O2 suffered network problems that lasted for about 24 hours which left about 10% of its 22 million customers with an intermittent service. Compensation was offered to subscribers after the problem was fixed.