Halo Spartan Assault video game coming to Windows Phone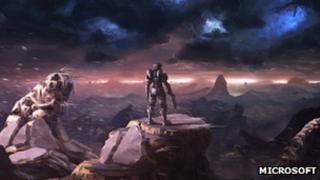 Microsoft has announced a Halo video game for Windows Phone 8 devices.
It is is first time a game from the bestselling sci-fi franchise has been released for touchscreen handsets. Previous mobile titles were limited to offering guidance and information about the console games.
The move mirrors a decision to release other Halo games as Xbox-exclusives.
They are credited for driving sales of Microsoft's console, but analysts say WP8 might not see a similar effect.
"When the Windows Phone platform was launched, tying in Xbox Live support appeared to be a key element - but Microsoft has failed to exploit the brand," said Jack Kent, mobile media analyst at IHS Screen Digest.
"It has struggled to attract developers to the platform as its failure to get a large market share has meant developers don't believe they would get a return on their investment.
"Halo is a strong brand and the new game will attract some of its fans - but a single title will not be enough to make a big difference for most consumers, particularly when they look at the wider catalogue."
Halo 4 integration
Halo: Spartan Assault is developed by 343 Industries - the Microsoft division responsible for Halo 4 - in conjunction with Dutch firm Vanguard Games.
Unlike other games in the series, it is a top-down action shooter - meaning the player takes a bird's eye view of progress - rather than the first-person design of other titles.
Its story is set between Halo 3 and Halo 4, and players can earn Experience Points, emblems and other content for their character in Halo 4 by progressing through the mobile game.
Microsoft has said it will cost $6.99 (£4.50) in the US, and it will charge further in-app fees if consumers want to buy upgrades for their weapons or armour.
In addition to being made available on Windows Phone, it will also be released for PCs running Windows 8.
Mobile challenge
While Microsoft dominates the operating system market when it comes to desktops and laptops, it has a far smaller share of smart devices.
That poses a potential problem for the firm as several reports suggest the market for PCs is shrinking and is likely to be overtaken by smartphones and tablets within the next couple of years.
According to the CCS Insight consultancy, Windows Phone only powered 2% of smartphones shipped in 2012.
The firm expects that to double to 4% this year, although that still leaves it far behind the market leaders - Google Android and Apple iOS.
"Microsoft has woken up to the fact that its mobile platform's success is critical to its future," CCS Insight's Ben Wood said.
"This year we expect it to become more proactive about supporting the platform's main flag bearer Nokia.
"Failure is not an option and having apps will be key.
"At the moment one of the biggest reasons people return Windows Phone devices is that big name apps are missing or lack parity with those on Android and iPhone, and addressing that is more important than having exclusives of its own."