Raspberry Pi gets easier to use with Noobs software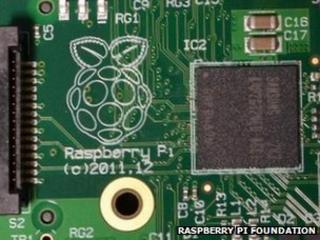 The foundation behind the cheap mini-computer Raspberry Pi has released downloadable software to make it easier for users to get started with the device.
It has led to claims the device, designed to encourage youngsters to do more programming, has been "dumbed down".
Founder Eben Upton said: "We definitely want to make it easier to use.
It follows "anecdotal evidence of people who have fallen off the wagon".
"The Raspberry Pi is a great platform if your parent is an engineer or you have a teacher who is an enthusiast, but if you don't have a tech-savvy adult to hand it can be quite a technical operation," Mr Upton told the BBC.
Reset button
Noobs (New Out of the Box Software) comes as a compressed zip file that can be downloaded to a SD card.
It offers new users a choice of operating systems to install, including ArchLInux, OpenELEC, Pidora, RaspBMC.
It could also be used to reinstall operating systems "if things go wrong", said Mr Upton.
The update was just the beginning of moves to make the device more user-friendly, he told the BBC.
"For schools, we want to be able to provide a remote-reset button for teachers to use between classes," he said.
Watching rhino
Since Raspberry Pis went on sale in February 2012, more than a million have been sold.
The computers have been put to some novel uses, including a controller for a robot boat that is piloting itself across the Atlantic Ocean.
The device appeared this week on the BBC's Springwatch show, counting birds going in and out of bird-boxes and correlating this with temperature.
And this week a project created by the Zoological Society of London that uses Raspbery Pis to fight illegal poaching in Kenya has won a £500,000 prize from Google.
The computer powers cameras that transmit images of intruders and pinpoint gunshots to allow park-rangers to more quickly catch poachers hunting for rhino horns.