Turkish people turn to VPNs as Istanbul protests spread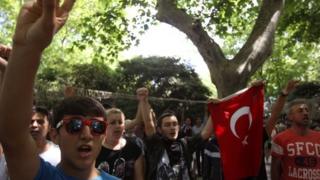 Turkish citizens are increasingly turning to virtual private networks as fears of a government crack-down on internet use increases.
AnchorFree has reported a 1000% growth in the local use of its free virtual private network (VPN) Hotspot Shield.
From an average of 9,800 installs per day in Turkey, it soared to 98,487 last weekend, Anchor reports.
The mobile version made it into the top five most downloaded iPhone apps following demonstrations in Turkey.
The unrest in Turkey, which began on 28 May, started as a protest over proposals to redevelop a park in Istanbul, but quickly escalated into wider demonstrations against what some see as a creeping Islamisation of a secular state.
Following tough responses to the protests from police, some activists believe internet crackdowns may follow.
The Hotspot Shield software offers secure browsing enabling personal identifiable information to remain private.
It has proved popular in regions of the world where the net is censored and was widely used during the Arab Spring.
"We find it satisfying and humbling to enable internet users to gain freedom to access all information online and are glad to play a role in global events by putting users in control online," said David Gorodyansky, founder and chief executive of AnchorFree.
Twitter arrests
The Turkish Prime Minister Recep Tayyip Erdogan has called Twitter a "scourge" and condemned social media as "the worst menace to society."
On Wednesday police arrested 25 people in the western city of Izmir, accusing them of tweeting "misinformation".
Many mainstream TV stations chose not to cover the protests which broke out across Turkey.
A video posted on Facebook showed an activist mocking this decision. "There are protests in Taksim Square. I think you don't know about it, I just wanted to let you know. I can be your volunteer reporter," its narrator said.
Twitter user @ela-suleymangil summed up the mood of many, posting: "The revolution will not be televised. It will be tweeted."