Xbox One: Microsoft defends pre-owned games rules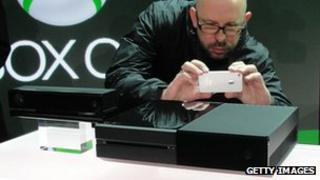 Microsoft has clarified its position on selling and buying pre-owned titles for its new Xbox One console.
Confusion arose after it appeared the company would impose a fee for playing pre-owned games, a move that was highly unpopular with gamers.
The company has now said in a statement that games can be traded in, but only at "participating retailers".
Games can be freely passed on to friends, Microsoft added, but only once.
"Xbox One is designed so game publishers can enable you to give your disc-based games to your friends," the statement said.
"There are no fees charged as part of these transfers.
"There are two requirements: you can only give them to people who have been on your friends list for at least 30 days and each game can only be given once."
The Xbox One will come up against Sony's new console, the PlayStation 4.
Sony is yet to show off the console and has not set out its policy on pre-owned games.
Its worldwide studios president, Shuhei Yoshida, told news site Eurogamer that used games would not be "blocked" on the console, but would not specify whether there would be a fee for using pre-owned titles.
Always online
The Xbox One has also come under fire after it emerged it might have to be always online to play games.
Microsoft explained on Thursday that while the console did not have to be online to play, it did need to connect at least once every 24 hours.
The company said: "You can game offline for up to 24 hours on your primary console, or one hour if you are logged on to a separate console accessing your library.
"Offline gaming is not possible after these prescribed times until you re-establish a connection, but you can still watch live TV and enjoy Blu-ray and DVD movies."
This policy would "raise a few eyebrows" in the gaming community, one technology blog wrote.
But Microsoft argued that these policies allow individuals greater access to their games, even if players are not on their own console.
"After signing in and installing, you can play any of your games from any Xbox One because a digital copy of your game is stored on your console and in the cloud.
"So, for example, while you are logged in at your friend's house, you can play your games."
As the console is always on, it allows developers to create "massive, persistent worlds that evolve even when you're not playing", Microsoft said.