Sony retains the upper hand at E3 games expo in LA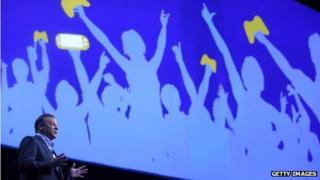 Compared with the whoops and hollers from the audience at the launch of Sony's PS4, the reception for Microsoft's Xbox One felt rather more muted here at E3 in Los Angeles.
Showing off the Xbox One - which looked like a "massive Betamax," according to one delegate here - the company pandered to a distinct audience: normal families.
Unfortunately for Microsoft, normal families don't tend to watch games console launches, and so it was left simply with disgruntled gamers wondering where all the games were.
Monday's press conference, held at a venue normally reserved for NBA basketball, sought desperately to rectify that.
"As we've been promising, it's all about the games," the company said, kicking off a lengthy presentation with beautiful footage of Metal Gear Solid 5.
From here, exclusive next-gen titles took centre stage. There were 13 in total, the most impressive of which was arguably Quantum Break, an eerie sci-fi thriller where a science experiment has caused pockets of time to slow down.
It certainly put pressure on Sony to be as impressive with its top titles at its own event.
But before talk of the exclusive games, it was finally time to see the unit itself. Predictably, it's a black rectangular box. The design has been said by some fans to resemble an eraser, or to this journalist, a futuristic bourbon biscuit.
The console went down moderately well - but it's fair to say for most in the room it was a grower, rather than love at first sight.
On closer inspection - and when we wanted to bring BBC cameras in for a better look - we were told that it wasn't actually fully ready after all, so expect some minor changes between now and when it goes on sale later this year.
Back to games, and The Order 1886, a title set in 19th Century London, and the hilarious Octodad, a playful game in which the player controls an octopus, were enjoyed.
As was Watch Dogs - a game which appears across both consoles. In the game, users play a man who is able to hack everything - mobile phones, electricity supply and so on.
Sony boasted that there were more than 140 games in development for the PS4.
That figure didn't include the efforts of small, independent developers who will be able to "effectively self-publish" games for the PS4 via Sony's existing PlayStation Network.
'Good thing'
Meanwhile, few would have predicted, even six months ago, that one of the main sticking points at this year's E3 would be the future of trading pre-owned games.
And nobody was in any doubt that Sony wanted to stick one to Microsoft as it went through its policy.
Sony Computer Entertainment America boss Jack Tretton addressed the contentious issues one-by-one.
Unlike the Xbox, PlayStation 4 games will not require the user to connect to the internet once every 24 hours in order to remain playable.
They would allow the people to freely trade discs for "forever".
"I guess that's a good thing," joked Mr Tretton as the arena cheered the announcement.
One technology news site summed up the day's events as Sony "smacking the Xbox One in the mouth". A harsh assessment, perhaps, but one shared by attendees at E3.
But it is no exaggeration to state that Sony has retained the upper hand at this year's E3.