Facebook adds video clips to Instagram app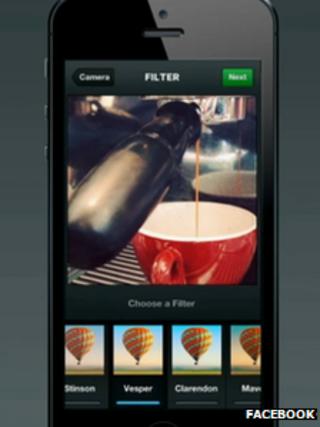 Users of Facebook's photo-sharing app, Instagram, will now be able to take videos as well as still photographs, the social network has announced.
In a press conference, Instagram's chief executive Kevin Systrom said the app would allow them to make clips lasting between three and 15 seconds.
Users will also be able to add the distinctive filters that epitomise Instagram photographs.
The app will vie with Twitter's Vine, which also lets users share video.
The Instagram update will allow iPhone and Android users to record and stitch together their clips to form a "collage", which can then have one of 13 customisable filters applied to them.
These can make the clips black-and-white, add a blur-effect or otherwise alter the footage.
In addition, iPhone users are offered a "cinema" facility, which stabilises the clips to counteract camera shake.
"Fifteen seconds of video [is] the right balance between not-too-short that constrains your creativity and not-too-long where you end up having to wait a lot of time for something to download," said Mr Systrom.
The time limit is more than double that offered by Vine's six-second clip service.
Other differences include the fact that Instagram's videos do not loop, and that its users can choose their thumbnail images.
Vine is expected to announce new features of its own over the coming days after its co-founders uploaded aseries of clips teasing an update.
Rivalling YouTube
Facebook acquired Instagram last year for more than $700m (£450m).
Mr Systrom said the service was currently used by 130 million people a month and that 16 billion photos had been shared on it.
In May, market analysts at comScore said Facebook was now also the second biggest US online video site, beaten only by YouTube.
"Mobile and video are going to be key to Facebook going forward," said Ovum analyst Eden Zoller.
"Launching video for Instagram is a logical next step. The only surprising thing is that it didn't do it sooner."
But, she added, Facebook would be under close scrutiny.
"It has had some launches recently, like Facebook Home, that have been done with great fanfare but don't seem to have made a huge impact. Whatever it does with video, it will have to do well."
Brian Blau, an analyst at tech consultants Gartner, noted that Instagram was not the first to offer video filters, but predicted the facility would prove popular.
"The question will be: Are filters enough?" he added.
"I don't necessarily think so. There are other elements to post-production, such as adding titles or improving lighting, that may be more useful."