Samsung: Is the smartphone-maker in deep water?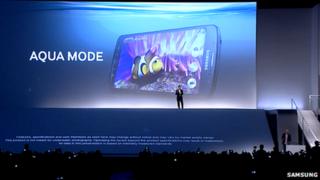 Samsung showed off a smorgasbord of new smartphones, tablets and cameras at its latest press event on Thursday.
Among the highlights: a water-resistant version of its flagship Galaxy S4 handset; a tablet that runs both Android and Windows 8; a phone with a 10x zoom lens; and a camera with swappable lenses that uploads pictures over 4G networks.
It was typical Samsung - a device to suit nearly every need, all dished up with high production values.
But travel away from the glitz of the launch to the more sober trading rooms of the big banks and you'll find a different story being told about the firm.
On 5 June South Korea's Woori Investment & Securities cut its earnings forecast for the tech giant, and was briskly followed by JP Morgan, Goldman Sachs, Merrill Lynch and others.
The cause? Fears that sales of Samsung's most important products were not going to meet expectations.
"Galaxy S4 momentum is slowing much faster than the previous version," JPMorgan told its clients.
Samsung Electronics has seen its share price fall nearly 14% as a consequence and more than $27bn (£17bn) has been wiped off its parent Samsung Group's market value.
The sell-off needs to be put in context.
Samsung had previously said it was enjoying "record" demand for the S4, reporting 10 million units had been sold in its first four weeks. Market research firm Strategy Analytics has also suggested the company now accounts for 95% of the Android smartphone sector's profits.
Even so, investors have been spooked - the Wall Street Journal even reported the share price slide "was reminiscent of the fall in rival Apple shares earlier this year".
The BBC asked four experts whether there was any real reason to be concerned about Samsung's smart device strategy.
David Pierce, The Verge
A year ago, there was no question: Samsung made the best Android phones on the market.
From the screen to the camera to battery life, the Galaxy S3 bested its competitors before even getting to the litany of software features and customisations.
Samsung's impossibly powerful marketing arm then took those advantages and trumpeted them on every surface and airwave possible, and the phone took over the industry.
With the Galaxy S4, however, Samsung appears to be learning that you can't always buy a hit.
The phone came out to mild reviews, and next to the gorgeous HTC One and the omnipresent iPhone 5 it simply hasn't stood out in a crowded market.
As 1080p screens and 13-megapixel cameras have become commonplace, buyers have put a premium on design; Samsung's laundry list of features can't stand up to the fact that the phones next to it on the shelf just feel better in your hand.
In every other category, too, it has focused on being biggest, or strangest, or most feature-laden, but it's forgotten to focus on making sure its products do their job properly.
As a result, Samsung's stock is down, and its reputation as an unstoppable force appears to be in jeopardy.
The Galaxy S4 is still a very good phone, and it's selling very well, but Samsung didn't become a behemoth through marketing alone; it did so by building the best phone on the market, and then making sure everyone knew about it.
That's what Samsung needs to do again. Without great devices, there's no great story for its huge marketing department to tell.
Neil Mawston, Strategy Analytics
Make no mistake, Samsung dominates Android.
Samsung captured a huge 95% share of all profits in the global Android smartphone market during the first three months of 2013. Samsung makes more profit from Android than Google does.
Those financial trends will worry Google.
First, they raise questions about the profitability of the Android ecosystem for hardware makers.
There are hundreds of smartphone vendors worldwide using Android software, such as Huawei or LG, but almost none of them are making any serious profits. Even Google's own Nexus range is not yet generating major income.
Second, the stats emphasise how powerful Samsung has become.
Samsung is easily the world's biggest Android smartphone manufacturer. Android's success today as the mobile industry's most popular smartphone platform is largely down to Samsung.
What if Samsung decides it cannot squeeze any more profit from Android?
At 95% profit share, Samsung arguably has limited scope for growth. Might Samsung switch some of its valuable resources to rival operating systems?
Well, Bada, an ageing platform developed by Samsung, is now being phased out because of poor sales.
Tizen, a new platform being introduced by the firm, has low brand awareness and an unproven services ecosystem.
Meanwhile, Microsoft's Windows Phone, which Samsung sells in a few models, has a reputation for being more expensive to license than Android.
Thus, we must conclude that Samsung has few credible mass-market alternatives to Android at the moment. Google may not like it, but Samsung will continue dominating Android for now.
Ben Wood, CCS Insight
Samsung's enormous range of mobile devices seemingly flies in the face of a trend towards a smaller, more focused set of products, as offered by its arch-rival Apple and others such as Sony.
In recent months Samsung has launched an avalanche of devices, many of which appear to be very similar. This has led to accusations that it's diluting its impact and confusing potential buyers.
Although there might be some merit in this argument, the substantial profit margin generated by Samsung's mobile division suggests otherwise.
We estimate it's about 20% - far higher than any other phone-maker apart from Apple, whose profit margins continue to defy gravity.
Most mobile phone manufacturers are struggling simply to make money.
Samsung's scattergun approach is a statement of confidence by a company that's riding high in the consumer electronics business. It's one of the few players that can afford to push out lots of products, see which ones really appeal and then use its colossal marketing budget to promote those devices.
A broader range of products also provides a strong defensive position.
A good example of this is in the so-called "phablet" category of mobile phones with giant screens.
Samsung was a pioneer in this area with its Galaxy Note devices and most of its rivals are now preparing or offering similar products.
To defend its lead Samsung has quickly added two more models with different screen sizes, making it harder for competitors to carve out a niche by offering something that Samsung doesn't.
Despite its current position Samsung should be aware that having an excessively large product range can end in tears. Just look at Nokia.
At its height it became obsessed with creating a phone for every single type of customer. It lost all focus and has now paid a very heavy price.
Jasper Kim, Asia-Pacific Global Research Group
In 2011 I warned the rise of China's emerging electronics companies was a tangible threat to the world's bestselling smartphone maker.
As we have seen, emerging tech titans from the mainland, such as Huawei and ZTE, have since made gains. It should serve as a wake-up call to the South Korean firm.
Samsung's recent string of smartphone successes have largely, but not entirely, been linked to the relatively straightforward formula of offering consumers larger screen sizes with an American-based operating system - certainly evolutionary but not exactly revolutionary on Samsung's part.
But assuming that we are now at the limits of how big one-hand display screen sizes can get, the focus will shift more towards price points and brand familiarity than a "bigger is better" mentality.
Samsung's ultra-aggressive and expensive marketing strategy was a key factor in its brand awareness outside of South Korea.
But to capture the billion-plus mainland Chinese market, homegrown firms, such as Huawei and ZTE won't need to expend the same amount of marketing resources to gain brand familiarity and consumer trust.
Chinese firms will also be naturally positioned to know exactly what its domestic consumer base wants before any other foreign tech firm, including the likes of Samsung and Apple.
Samsung should not rest on its laurels. This week's introduction of Huawei's Ascend P6 - the world's "slimmest" smartphone - is just the beginning of future innovative products to follow.
If Samsung fails to pay heed, the rise of such Chinese tech firms could be tied to the decline of Samsung's market share in China and beyond.