Jake Davis: Freed hacker faces strict tech rules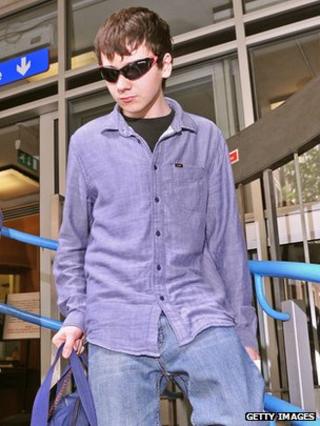 A convicted hacker who was detained in a young offender institution has been released - but will now face strict limitations on his technology use.
Jake Davis, 20, was convicted of computer hacking for his role in the notorious group LulzSec.
He cannot contact anyone who associates themselves with the wider Anonymous hacktivist collective.
He told the BBC he planned to release a prison diary and to write a film about the internet.
Davis returned to Twitter on 22 June after finishing his 37-day term at Feltham young offender institution.
During that time he penned what he described as a "nerdy" diary, written using pen and paper, which he hopes to publish online once it has been subjected to legal checks.
He is forbidden from creating encrypted files, securely wiping any data or deleting his internet history.
In June 2012 he pleaded guilty to being part of LulzSec, an offshoot of Anonymous famed for attacking several high profile sites including Sony Pictures and the UK's Serious Organised Crime Agency.
Shortly after being released, he tweeted: "654 days on curfew and 37 days in Feltham. Up next: Another 365 days on licence (parole) and 1,825 days of intense monitoring. Free though!"
He had been sentenced to 24 months - but he had been wearing an electronic tag for 21 months which counted against his term.
Licking elbows
Davis is now based in Islington, north London, where he said he was working on a number of projects.
He said he had begun an unspecified project with contemporary art firm Artangel - the company told the BBC it had had "several exploratory chats with Jake over the past six months", but would not go into further detail.
Longer term, he told the BBC he would write a fictional film about the internet, working with production company Fly Film, who could not be reached for comment on Monday.
Publically on Twitter, he has been sharing anecdotes about his time inside.
In one post, he wrote: "I was sacked as a prison cleaner for mopping too near a computer. Those deadly, soapy mops are a serious threat to GCHQ, make no mistake!"
As alter ego Topiary, Davis's last tweet before his arrest in July 2011 read: "You cannot arrest an idea."
On Sunday, in a nod to that sign off, Davis joked: "You can arrest an idea, you can imprison an idea, you can warp an idea, you can break an idea, but you still can't lick your own elbow."
While he wishes to distance himself from the hacking world, he has pledged support to Edward Snowden, the former US intelligence contractor who leaked secret documents regarding the monitoring of internet users.
At the time of Davis's sentencing, prosecutors said the actions of the LulzSec group had been "cowardly and vindictive".
"The harm they caused was foreseeable, extensive and intended," said Andrew Hadik, a lawyer for the Crown Prosecution Service. "Indeed, they boasted of how clever they were with a complete disregard for the impact their actions had on real people's lives."
He added: "This case should serve as a warning to other cybercriminals that they are not invincible."