Voucher scheme would 'water down' ultra-fast net speed plan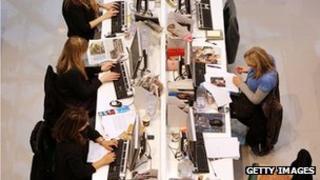 The government has been accused of "scaling back" a plan to boost urban internet speeds, after it said most of the cash might be spent on vouchers.
The Independent Networks Co-operative Association said the scheme had now been "watered down" as a consequence.
But the government said the public would still benefit from new wi-fi hotspots and other efforts.
The news follows a legal challenge by BT and Virgin Media to Birmingham's plan to fund a new fibre-optic network.
Meanwhile it has emerged that, as of March, many councils in England had yet to receive funds from a separate pot of money announced two years ago, which was supposed to be spent on rural projects.
Former Culture Secretary Jeremy Hunt said last September the UK would have "not just the best, but specifically the fastest broadband of any major European country by 2015".
And on Wednesday a spokesman for the Department of Culture Media and Sport (DCMS) said it still had the same ambition.
"The voucher scheme is only one element of the super-connected cities programme, and certainly does not represent a scaling down," he said.
"The Urban Broadband Fund will be invested in a range of high-speed broadband projects that enhance business connectivity, drive economic growth and improve wireless coverage."
Ultra-fast internet
A total of £150m has been pledged to boost broadband speeds in 22 cities: London, Edinburgh, Cardiff, Belfast, Birmingham, Bradford, Brighton, Hove, Cambridge, Coventry, Derby, Leeds, Oxford, Portsmouth, Salford, York, Newcastle, Manchester, Newport, Aberdeen, Perth and Londonderry.
When the plan was first announced in 2012, the government said it hoped to provide "ultra-fast broadband" coverage to 1.7 million households and 200,000 businesses in high-growth areas, as well as high-speed wireless broadband to three million residents.
Ultra-fast broadband was defined as connections with a minimum download speed of 80 Mbps.
While the wireless side of the plan remains unchanged, a new consultation document suggests the "primary focus" of the other part is now to offer up to £90m of vouchers to subsidise the cost of businesses installing 30+Mbps broadband connections.
The offer would be limited to companies with fewer than 250 employees and turnover of no more than £37m.
Rule change
The move follows a legal challenge brought by BT and Virgin Media in October against Birmingham City Council's plan to build a 100+Mbps network to serve parts of the city.
Birmingham had been one of the first places to have its proposal for how to use cash provided by the super-connected cities scheme approved by the European Commission.
BT and Virgin Media argued that new network would pose unfair competition to their own projects in the area and objected to the fact they had been barred from bidding for the work.
The European Commission subsequently revised its state aid guidelines. As a consequence of the change the DCMS believed there would be delays to getting other cities' proposals approved and that some could even be blocked. As a result, it said it had decided to overhaul its plans.
Culture Minister Ed Vaizey, said the system was now designed to "generate maximum competition" among internet service providers (ISPs)
Virgin Media welcomed the news.
"Where companies are already investing in world-class connections, government has recognised public money should not be used to build more networks," it said.
BT said: "The government's voucher scheme for super-connected cities is being pursued as a practical means of contributing state funds to the deployment of fibre infrastructure in unserved parts of the participating cities."
But a group representing other internet firms and local authorities voiced its disappointment.
"It is a pity that the original government plans have been so watered down," said Malcolm Corbett, chief executive of the Independent Networks Co-operative Association.
"What started as a big ambition to create 'gigabit districts' in our cities with high capacity, low-cost digital networks to support growth in the creative and digital sectors, has become a scheme to help small businesses pay for a BT connection.
"The voucher scheme could be useful, but it will not create the sort of transformational digital infrastructure that ministers and the cities wanted and that our economy needs."
The DCMS said money not spent on vouchers would be used to provide wi-fi hot spots in public buildings such as libraries, museums and on selected public transport, and investment in regional tech clusters, enterprise zones and business parks.
It indicated it would have more to say about the scheme on Thursday.