Hall of Fame honour for web activist Aaron Swartz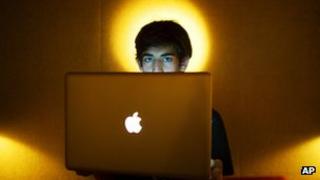 Web activist Aaron Swartz has been posthumously inducted into the Internet Hall of Fame.
Mr Swartz killed himself in January while fighting charges he had hacked an online archive of academic papers.
A programmer from an early age, Mr Swartz helped create the RSS standard and co-founded social news site Reddit.
After he left Reddit, he campaigned on internet freedom, which he said had motivated him to try to open up access to the papers in the academic archive.
"We're humbled and honoured by the award," Mr Swartz's father told the CBS news website.
The legal battle over Mr Swartz's targeting of the Jstor archive, from which he downloaded millions of academic papers, became a touchstone among net activists.
At the time of his death, his family condemned the US government's aggressive pursuit of legal charges against Mr Swartz. If found guilty, he could have faced decades in prison and fines of about $1m (£600,000).
Critics said the charges were disproportionate for the offence Mr Swartz was alleged to have committed.
Action after his death has lead to the drafting of amendments to US law that would narrow the range of charges that people can face if they commit offences similar to those Mr Swartz was charged with. In addition, the Jstor archive has started to give members of the public free access to journals on a restricted basis.
Mr Swartz was one of 32 people the Internet Hall of Fame chose as its 2013 inductees. Others included Bob Metcalfe, the inventor of the Ethernet networking technology, and Wikipedia founder Jimmy Wales.
The ceremony to honour the Hall of Fame inductees was originally scheduled to be held in Istanbul, Turkey. Ongoing unrest in the country means it has postponed until 3 August and it will now be held in Berlin.