Demo shows off first parts of Edsac rebuild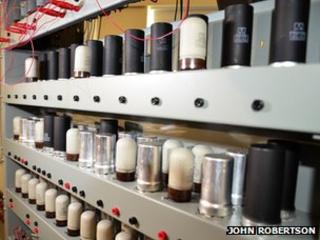 A project to recreate a pioneering UK 1940s computer has hit a significant milestone as the first working parts of the restored machine are demonstrated.
Key elements of the restored Electronic Delay Storage Automatic Calculator (Edsac) were unveiled on Wednesday.
They were shown off at a Bletchley Park event marking the 100th anniversary of the birth of Edsac's designer, Sir Maurice Wilkes, who died in 2010.
The Edsac recreation project began in 2011 and should be completed by 2015.
Edsac, widely accepted to be the world's first practical general purpose computer, first ran in May 1949.
It was created to do computational work for scientists at the University of Cambridge
Its design was copied for the Leo, the world's first computer to be used in business.
Recreation of the original machine has been tough as relatively few of the Edsac design documents from the 1940s have survived.
Early work on the project has gone into scrutinising pictures of the original to work out which bits go where and what they might do.
This has been a mammoth task as Edsac is built of 3,000 valves spread across 140 separate shelves.
Once complete, the machine will occupy a 20-sq-m (215-sq-ft) space.
The parts demonstrated at Bletchley include one element that handles basic mathematical operations as well as internal clocks that help to keep data co-ordinated as it passes through the machine and in and out of memory.
Attending the event was Sir Maurice's son, Anthony.
"My father was a man of great intellect with a strong practical streak," he said. "From an early age my two sisters and I were conscious of computers - in a way we were one of the first computer-age families."
Once finished, the machine will be installed in a gallery at the UK's National Museum of Computing which is part of the Bletchley Park heritage site.