Twitter translates tweets from leading Egyptians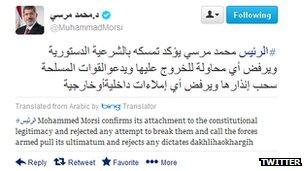 Tweets from leading Egyptians are being automatically translated as part of a new Twitter service for non-Arabic speakers.
As Egypt's military ousted President Mohammed Morsi on Wednesday, non-Egyptians were able to read his tweets in their local languages.
Other figures being translated included opposition leader Mohammed ElBaradei and Arab Spring activist Wael Ghonim.
Twitter is using Microsoft Bing translator as an "experiment".
President Morsi's last tweet, posted at 21:39 BST on 2 July, was translated as: "Mohammed Morsi confirms its attachment to the constitutional legitimacy and rejected any attempt to break them and call the forces armed pull its ultimatum and rejects any dictates dakhlihaokhargih."
The translation tool is clearly not yet 100% accurate and Twitter has not officially launched the service, but in a statement to digital news site AllThingsD it said: "As part of our experiment with tweet text translation, we've enabled translation for some of the most-followed accounts in Egypt, so people around the world can better understand and keep up with what's happening there."
Twitter has provided a list of all the Egyptian accounts it is translating, called egypt2013, which has 63 members.
The list includes Wael Ghonim, who has more than 1.1 million followers, and Tahrir News, which has more than 900,000 followers.
'Independent storytellers'
Twitter began its experimental translation service this month, covering European languages such as Italian, French and Spanish, before extending it to Arabic on Wednesday.
Social media site Facebook also offers a translate feature for its foreign-language posts, while Google's search engine also offers a translate feature.
"I think it opens a lot of chances for independent storytellers and bloggers to make their voice reach a wider audience," Federico Guerrini, a journalist fellow at the Reuters Institute for the Study of Journalism, told the BBC.
"In the future, activists and bloggers from foreign countries could bypass the filter of Western 'curators' and tell the world live what is happening.
"Journalists will also have easier access to a number of sources previously unavailable," he added.
While Twitter is undoubtedly growing in popularity as an unfiltered news source, research by the University of Edinburgh suggests news wires are still faster than Twitter for breaking news.
Dr Miles Osborne, from the University of Edinburgh's School of Informatics, said: "Twitter and traditional news outlets each have their strengths in terms of delivering news.
"However, Twitter can bring added value by spreading the word on events that we might not otherwise hear about, and for bringing local perspectives on major news items."