Wimbledon causes surge in social media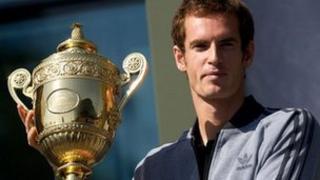 Twitter recorded more than 6.6 million tweets about Wimbledon during the two-week tennis championships.
During last year's tournament the figure was just 2.5 million, according to analysis by Wimbledon partner IBM.
Facebook reported more than 20 million posts, comments and "likes" relating to the competition.
Mobile phone provider EE said there was a 39% increase in traffic on its 4G service during the men's final on 7 July.
On the same day, Google recorded more than two million searches for match winner Andy Murray.
During the same time period, more than 500,000 people chose to search for information about his girlfriend Kim Sears.
Over the course of the championships, the Facebook profile of Murray's rival Novak Djokovic attracted 3.1 million "likes". That was three times as many as Murray, who had 1.3m at the time of writing.
This trend was reflected by the women's finalists, with winner Marion Bartoli attracting 18,412 "likes" for her official page while her opponent Sabine Lisicki gathered 290,000.
Murray's victorious tweet: "Can't believe what's just happened!!!!" was re-tweeted more than 77,000 times in just over an hour, Twitter said in a blog post.
High demand
However some sports websites struggled to keep up with the demand for information about the tournament.
According to website monitoring service Keynote, 25% of visitors to the Eurosport website were unable to see pages during the men's final, while loading times for Tennis.co.uk took up to 15 seconds at peak times.
The recent combination of two big sporting events - Wimbledon and the final Lions rugby test in Australia - put added pressure on websites, said Robert Castley, Performance Management Expert at Keynote.
"From analysing site performance over Wimbledon this year, we can see how some sites have lagged behind and will have, as a result, lost some of their loyal visitors," he explained.
"In a world where the next well-performing website is only a click away, drops in service and lengthy load times should simply be a thing of the past."
He added that while most websites coped well with the surge in demand, it was important that the big headlines were easy to find.
"We are all well aware of the depth of information on the internet, but when Murray hit that last ball, all anyone really wanted to know was whether Djokovic had made the return," he said.