Pirate Bay founder creates encrypted messaging app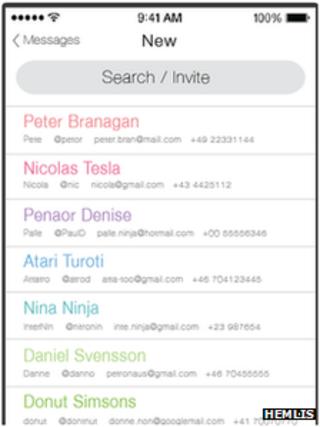 One of the Pirate Bay file-sharing site's founders has announced plans for a "totally secure" rival to WhatsApp and Apple's iMessage services.
Hemlis, which means secret in Swedish, will use end-to-end encryption so messages are seen only by the sender and recipient.
Peter Sunde said it was a response to governments spying on users' data.
The iOS and Android project is quickly approaching its $100,000 (£149,133) funding target.
However, Apple and WhatsApp say communications using their services are already "fully encrypted".
Blackberry is also planning to extend its BBM chat service - which can be made fully secure - to other mobile operating systems.
The team behind Hemlis said their service would be more beautiful and user-friendly.
'Secure, fun and sexy.'
Hemlis is being crowdfunded by users who can opt to pay either in the virtual online currency Bitcoin or PayPal.
In return for a $5 donation, they are being offered free access to all the premium features regular users would normally have to pay for, such as picture-sharing.
In contrast, other apps are often funded by selling adverts or user data - a model the app's developers want to steer away from.
"We're interested in helping, not selling users", said the developers.
"No-one can spy on you. Not even us."
The move by the Pirate Bay co-founder comes after recent revelations that the US government's National Security Agency has been using a system called Prism to tap into data stored by US-based technology giants including Google, Facebook and Apple.