Twitter abuse: Why cyberbullies are targeting women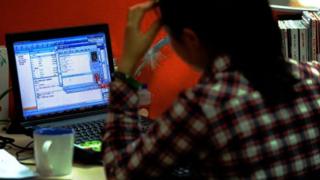 Does it matter whether this article was written by a man or a woman?
The politically correct answer may be no, but for some readers it could be an important factor.
The threats of sexual violence which Caroline Criado-Perez received online following her campaign for a woman to be featured on British bank notes has highlighted the prevalence of gender-based bullying across social media.
Facebook was forced to change its policies in May after thousands complained about the posting of material which portrayed violence against women in a positive way on the site.
This included Facebook groups with titles such as "This is why Indian girls get raped" and individual uploads of graphic photographs showing abused women.
One image of a woman lying at the foot of a flight of stairs was captioned: "Next time, don't get pregnant."
At the time, Everyday Sexism project founder Laura Bates told the BBC that Facebook was hiding behind a "smokescreen of free speech".
"We need to do better - and we will," said the company in a blog post promising to review its procedures.
Fight harder
Lucy-Ann Holmes, who founded a campaign to end the publication of topless "Page 3 Girls" in The Sun newspaper last year, told the BBC that while she had also received death threats, she had not been subject to the level of "sustained attack" experienced by Ms Criado-Perez.
"I'd say it's a constant undercurrent, when women write about feminist issues or are exposed in a lot of media for speaking out about sexism they tend to get a barrage of abuse and threats," she said.
"It can be exhausting and terrifying, but ultimately it makes you fight harder.
"You don't want future generations of women to have to put up with this, so you double your efforts in championing for a more positive representation of women."
Visibility
Journalist Mary Hamilton says she has received sexist and misogynistic communications on the net since childhood.
"I think I was 12 years old the first time someone on IRC [Internet Relay Chat] told me explicitly what they'd like to do to me, sexually, then swore at me when I told them I wasn't interested," she wrote on her blog.
I learned, fast, that if I wanted to be taken seriously or heard at all - if I wanted to ensure that random, entirely unsolicited, often threatening sexual advances wouldn't happen - I'd best pick a male name, online. Or at least be gender neutral. It sometimes seems that in 15 years not all that much has changed."
She told the BBC the recent backlash was adding a much-needed "visibility" to the issue.
"Blow-ups like this are the new part of the equation, not abuse," she said.
"So I suspect this is a necessary step towards changing social norms."
Form filling
But many other groups in society believe they too are targets for "trolls" - people who post malicious comments and threats online, often anonymously.
Kevin Healey, who has autism, launched a campaign against cyberbullying in April this year after suffering long-term abuse.
"Because of my autism I can't do social things like go to the pub or go to nightclubs," he told the BBC.
"Ninety per cent of my life is spent online. The entire social aspect of my life is online. But every time I go online I get abuse."
Mr Healey, who has more than 200,000 followers on Twitter, was inspired to launch the campaign after receiving a death threat followed by extensive trolling over a period of two years.
He said that after receiving the threat, which was emailed by someone he knew only online, he was afraid to leave the house for three months.
"With autism, everything is magnified - so feelings of anxiety and worry are more intense. Everything is aggravated 1,000 times."
Mr Healey said he was advised by Twitter to fill in a report form every time he received a malicious tweet.
"Have you seen the form? It's about four pages long. I get hundreds [of offensive tweets] every day, I'd be there all day and all night just filling in the forms," he said.
He would like to see the introduction of a button which records the IP address of a tweet when activated, and notifies the police.
"Current laws against cyberbullying just don't work at all," he said. "They haven't worked for me."
Amusement and revenge
Psychology professor Mark Griffiths from Nottingham Trent University specialises in researching online behaviour and addiction.
In his view, the two main motives for trolling activity are amusement and revenge.
"For people who experience abuse online, it can be psychologically devastating," he said.
"But I am sure the perpetrator has no idea. Unless it's done out of revenge they are not thinking about how the other person will feel - it's about how it makes them feel."
The anonymity offered by the web tempts people to behave in a way they would not in a face-to-face environment, he added.
"Psychologists use a word called disinhibition - it's why people shop, gamble, have sex online," he said.
"The internet is a non face-to-face, non-threatening, non-stigmatising, perceived to be an anonymous environment. People reveal their deepest darkest secrets online... and online, because you are distanced, people will abuse other people."
Prof Griffiths said the issue was far wider than a crude battle of the sexes.
"I don't think it's a gender thing at all," he said.
"I couldn't say whether it happens more to women or to men but it's quite clear that men and women will both abuse people online and be the recipients of that abuse.
"We've got no longitudinal studies to suggest whether it has got worse - but it is certainly more widely reported," he added.